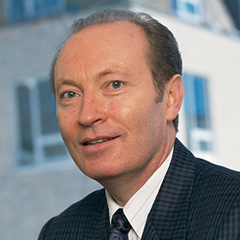 Thornton, Daniel
Professor Emeritus
Dan Thornton is professor emeritus of accounting at the Smith School of Business at Queen's University and serves on the Minister of National Revenue's Offshore Compliance Advisory Committee.
In 2017, he completed a 12-year appointment as the Chartered Accountants of Ontario Professor at Queen's and a nine-year appointment as a voting member of the Accounting Standards Oversight Council of Canada.
He has served as a full time Professional Accounting Fellow at the United States Securities and Exchange Commission, an editor of The Accounting Review and Contemporary Accounting Research, and a voting member of Canada's Accounting Standards Board. He has received both the Distinguished Contribution to Accounting Thought Award and the Outstanding Educator Award from the Canadian Academic Accounting Association. A Fellow of the Chartered Accountants of both Ontario and Alberta, Thornton has provided extensive expert accounting testimony to various courts and to the Senate of Canada. His current research addresses how conceptual frameworks influence the financial reporting of private vs. public enterprises, how the government's voluntary disclosure policies shape compliance with Canada's tax laws, and how financial reporting institutions affect the quality of financial information in capital markets.
Specialty: Accounting, Corporate Environmental Disclosures, Financial Planning, Tax Planning
Subject: Accounting
Room: Goodes Hall Room 358 East Wing
Phone: (613) 533-6194
Fax: (613) 533-2321
Download CV
Download Image