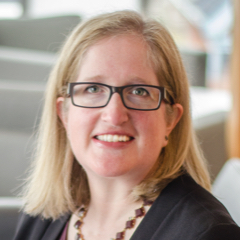 Rowbotham, Kate
Adjunct Assistant Professor & Distinguished Faculty Fellow of Organizational Behaviour
Dr. Kate Rowbotham is an assistant professor at Smith School of Business.  Dr. Rowbotham received her Bachelor of Arts (Honours) in Political Studies and French and her Master of Science in Management from Queen's University.  She completed her PhD at the Joseph L. Rotman School of Management at the University of Toronto in 2009.
Dr. Rowbotham's research focuses primarily on the interaction of personal and professional lives.  Her dissertation examined the relationship between employee knowledge of a coworker's deviant behaviours outside the workplace and reactions to the coworker within the workplace.  Other research interests include gender issues, modesty, and negotiations.  Dr. Rowbotham's work has been presented at international conferences in North America and Europe.
Dr. Rowbotham has taught human resource management, organizational behaviour, and negotiations at Queen's University and the University of Toronto, where she won a teaching effectiveness award.  Dr. Rowbotham has worked in educational and non-profit industries, and in small business management.
Subject: Organizational Behaviour
Room: Goodes Hall Room 430 West Wing
Phone: 613-533-3315
Extension: 33315
Download CV
Download Image