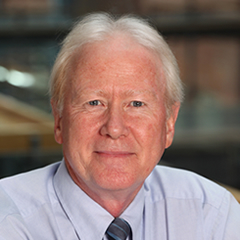 Moore, Steven
Adjunct Lecturer
Steven Moore earned his Masters Degree in Environmental Studies from York University and teaches Sustainability at the Smith School of Business. His teaching experience includes Queen's School of Environmental Studies; Herstmonceux Castle, U.K.; Queen's/Blyth in Costa Rica; and the University of Canberra.
At Smith School of Business, he has developed and taught two sustainability courses, COMM 408 and COMM 409, and has pursued interdisciplinary business, environmental, and energy theories and practices for over 25 years in the green business sector. He has run an off-the-grid organic farm on solar power and designed and built an earth-sheltered home incorporating many sustainable features suitable for student and community field trips.
He is active in the Queen's community as a Member of the Queen's Sustainability Advisory Committee, the Queen's Carbon Action Plan Advisory Committee, and the Queen's Carbon Action Plan Curriculum and Research Committee. As well, he is a frequent judge at student case competitions; speaker and moderator at student conferences; and guest lecturer across the University.
He has over 75 popular publications to his credit in the fields of environment and energy. He owns and operates Moore Partners (a 20 kW solar pv energy producer) is a Member of SWITCH, and has consulted to corporate and business clients such as RBC Funds, CI Funds, Toronto Dominion Bank, CBC Radio, AT&T, Scotiabank, Canada Life, Empire Life, Bell Canada, Loyalist College, CIBC, Ontario Hydro, the Canadian Cancer Society, Conservation Ontario, the Nature Conservancy, and several of Ontario's Stewardship Councils.
Please see:
http://www.moorepartners.ca/Sustainability.shtml
http://www.moorepartners.ca/Notes-from-the-Underground.shtml
Specialty: Measuring, implementing, and evaluating sustainability; renewable energy; climate change; consumerism;
Subject: Corporate Communications, Sustainability
Room: Goodes Hall Room LL146 East Wing
Phone: 613-533-6000
Extension: 78162
Fax: 613-533-2325
Email: smoore@business.queensu.ca
Download CV