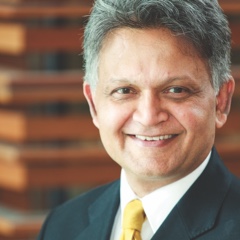 Dubey, Shai
Adjunct Assistant Professor & Distinguished Faculty Fellow of Business Law
Shai Dubey teaches courses in negotiations, cross-cultural management, ethics, domestic and international business law and entrepreneurship.
He is the academic director for project courses in various MBA programs as well as the MIB program. 
Shai has served as the director of the Cornell-Queen's EMBA program (now EMBAA), the MIB program, the Graduate Diploma in Business program as well the Full-time MBA program.
Shai earned his Bachelor's Degree from the University of Toronto and his Law Degree from Queen's University. Shai is also a graduate of the aviation Flight Technology Program at Seneca College. 
After graduating from Seneca College in 1984, he began his working career as a commercial pilot. In 1985 he founded and ran both an executive aircraft charter company and a flight training school based in Toronto. After selling this company, Shai worked as an aviation consultant providing strategic and regulatory advice to Canadian and foreign clients. 
Upon completing law school in 1994, Shai articled and practiced law with two major law firms in Toronto, specializing in corporate commercial law with an emphasis on mergers and acquisitions, corporate finance and aviation. 
In 1999, Shai became the Chief Operating Officer, General Counsel and a member of the Board of Directors of Quicklaw Inc., the leading provider of legal online data base services to the legal profession in Canada. In 2002, upon the sale of Quicklaw to a multi-national corporation Shai returned to the private practice of law. In 2006, Shai joined Smith on a full time basis.
Subject: Business Ethics, Negotiation, Business Law
Room: Goodes Hall Room 432 East Wing
Phone: 613-533-3313
Extension: 33313
Email: sdubey@business.queensu.ca
Download CV