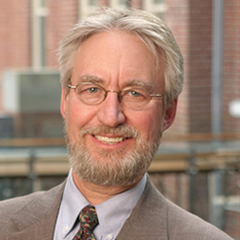 Darling, Michael
Adjunct Lecturer & Program Director, Smith Accelerated MBA for Business Graduates
Michael Darling joined Smith School of Business in January 2005 as program director of Smith's Accelerated MBA for Business Graduates. In addition to his director responsibilities he teaches courses on strategy, marketing and the global business environment in Smith's MBA programs.
He was born in London, England and educated in Montreal. where he earned Bachelor of Commerce and MBA degrees from Concordia University. The first ten years of his corporate career were spent at Gillette and Schering Plough in Montreal. He then joined The Kellogg Company, where, after Canadian and European executive assignments, he served as executive vice-president of marketing and sales in the US. After several years with Kellogg's he joined Max Factor in California as senior vice-president, international, with responsibility for Pacific Rim subsidiaries, including Australia and Hong Kong, and was subsequently promoted to the role of executive vice-president of worldwide marketing.
For the past two decades Darling has focused on program management, teaching, consulting, entrepreneurial and environmental activities. He was on the faculty of New York University's Stern School of Business from 1986 to 2004 where he taught marketing and strategy courses in MBA and Executive MBA programs, was the founding director of Stern's executive development initiative and was actively involved with Stern's Berkley Center for Entrepreneurial Studies. He is a recipient of the Citibank Excellence in Teaching award and was listed several times in Business Week's outstanding faculty list. Darling has also taught courses at Pepperdine University in California, Columbia University's Teachers College and the Rotman School of Management at the University of Toronto. In addition, he has taught in an MBA program in Italy and has led international study tours to several countries including Brazil, England and Switzerland.
He has written several cases for use in MBA and Executive MBA integrated strategy exercises and has had numerous articles published in Stern Business, Brandweek and other business publications.  His focus in these cases and articles has been on changes in strategy and tactics and the impact of these changes.
Darling has served in a consulting role for many corporations including AT&T, Lever/Best Foods, Microsoft, Nynex, The Rainforest Alliance, Seiko, Sony, Thomson Financial, Towers-Perrin and Wachovia Bank.
Specialty: Marketing, Strategy and Global Business
Subject: International Business
Phone: 613-533-6993
Extension: 36993
Email: mdarling@business.queensu.ca
Download CV
Download Image