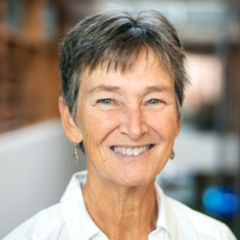 Brouwer, Brenda
Interim Dean
Brenda Brouwer was appointed Interim Dean of Smith School of Business in November 2019. Since then she has focused on executing Smith's strategy of offering innovative, relevant programs, supporting high quality research, and advancing initiatives in equity, diversity, inclusion and Indigenization (EDII). She has led the drive to deliver more online learning options across Smith's portfolio of degree and non-degree programs. Most recently, she formed the Smith EDII Task Force, which she co-chairs, with a mandate to develop and execute a data and experience-informed EDII strategic plan which will include metrics and performance indicators to evaluate progress and assess impact.
Dr. Brouwer recently completed a secondment with the Vector Institute for Artificial Intelligence in Toronto, where she joined the executive team as Head, Academic Partnerships. In this role she developed and led the talent development initiative, cultivating relationships between universities and industry to build a pipeline of well-trained graduates that organizations at the forefront of AI in Canada seek.
Prior to her secondment at the Vector Institute, Dr. Brouwer was Vice-Provost and Dean of the School of Graduate Studies at Queen's for eight years, preceded by five years as the Associate Dean.
Dr. Brouwer joined Queen's after completing a PhD in Neuroscience at the University of Toronto. She holds a BSc in Kinesiology (University of Waterloo) and an MSc in Biomechanics (McGill University). She is a professor in the School of Rehabilitation Therapy with cross appointments to the School of Kinesiology & Health Studies and the Centre for Neuroscience Studies. Dr. Brouwer maintains a successful research program that focuses on quantifying the biomechanical, neuromuscular and metabolic demands of mobility in healthy aging and stroke.
Subject: General Business
Room: Goodes Hall Room 320
Phone: 613-533-2305
Extension: 32305
Email: brouwerb@queensu.ca
Download CV
Download Image