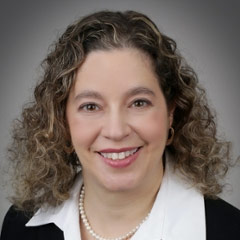 Benzacar, Karine
Adjunct Lecturer
Karine Benzacar has been teaching for Smith School of Business at Queen's University since 2010. She is also Managing Director of Knowledge Plus Corp., an organization which specializes both in business training and in providing financial, accounting, and management information services. As a professional accountant, certified both in Canada and in the U.S., Karine's practice has involved organizations all across North America. Her clients include many companies - large companies, such as the Bank of Nova Scotia, Magna, and IBM, start-up firms and the public sector, such as various departments of the Government of Canada.
Karine is a seasoned industry professional with over 25 years of solid industry experience. After beginning her career in the finance departments of Kraft Foods and Avon Products, she held senior financial management positions at three major Canadian Banks - Royal Bank of Canada, Bank of Nova Scotia, and Bank of Montreal. Her career has spanned many areas including budgeting, accounting, finance, project management, re-engineering, and strategic management. She is fluently bilingual in English and French. 
Karine obtained an MBA from McGill University in Montreal. In addition to her industry experience, Karine has been teaching undergraduate, MBA, and Masters of Finance courses at several leading universities which include University of Toronto, Queen's University, Concordia University, and Ryerson University. She is a highly acclaimed industry expert, has presented at national and international industry conferences, and has been facilitating professional development courses for CPAs for over 10 years. She helped develop and marked professional accounting exams. She has also trained hundreds of bankers in Canada, the U.S., and the Caribbean on credit analysis. She has published numerous articles in leading journals such as the National Post, Financial Post, CMA Management Magazine, HR Reporter, HRPA Magazine, Bottom Line and the RMA Journal and has been quoted as an industry expert in industry publications. She was awarded the FCPA designation an honorary designation where she was selected by her industry peers for her outstanding contributions to the industry, profession, and the community; this designation is held by less than 1% of CPAs in Canada. She was also instrumental in training accountants throughout Canada on International Financial Reporting Standards (IFRS).
Download CV