About the program
Delivering corrective feedback or confronting team members on performance issues is tough enough no matter what environment you're in - remote, face-to-face, or hybrid. Emotions can add an additional layer of complexity, which can lead to avoidance and letting issues fester.
In this highly practical half-day program, you will explore the principles of effective feedback and productive confronting, and learn a set of skills that you can use to have challenging conversations in a way that minimizes defensiveness and delivers positive results.
In this program you will learn:
How to deliver corrective feedback in a variety of different settings and work environments"
How to maintain openness to change
Methods of minimizing your own emotional reactions
You will leave with a set of highly practical skills that you can immediately put to use in the current environment.
Dynamic virtual classroom
Participate in the program from anywhere. Our virtual classroom combines live, interactive video instruction with breakout sessions, panel discussions, and expert Q&A.
Who should attend
This program is designed for anyone in a management role, including those new to managing, as well as leaders hoping to boost performance within established teams.
Discounts Available
Registered Charities
Queen's Executive Education is pleased to offer a limited number of discounted seats in every program to employees of Canadian registered charities. Check your eligibility.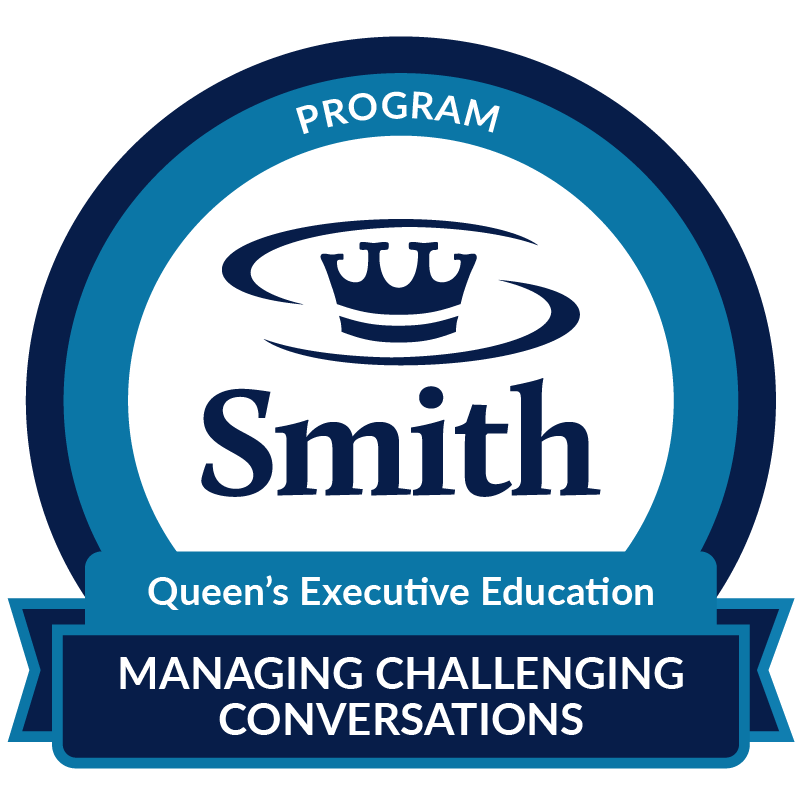 A Recognized Symbol of Excellence
Participants who complete the program earn the Managing Challenging Conversations digital badge credential.