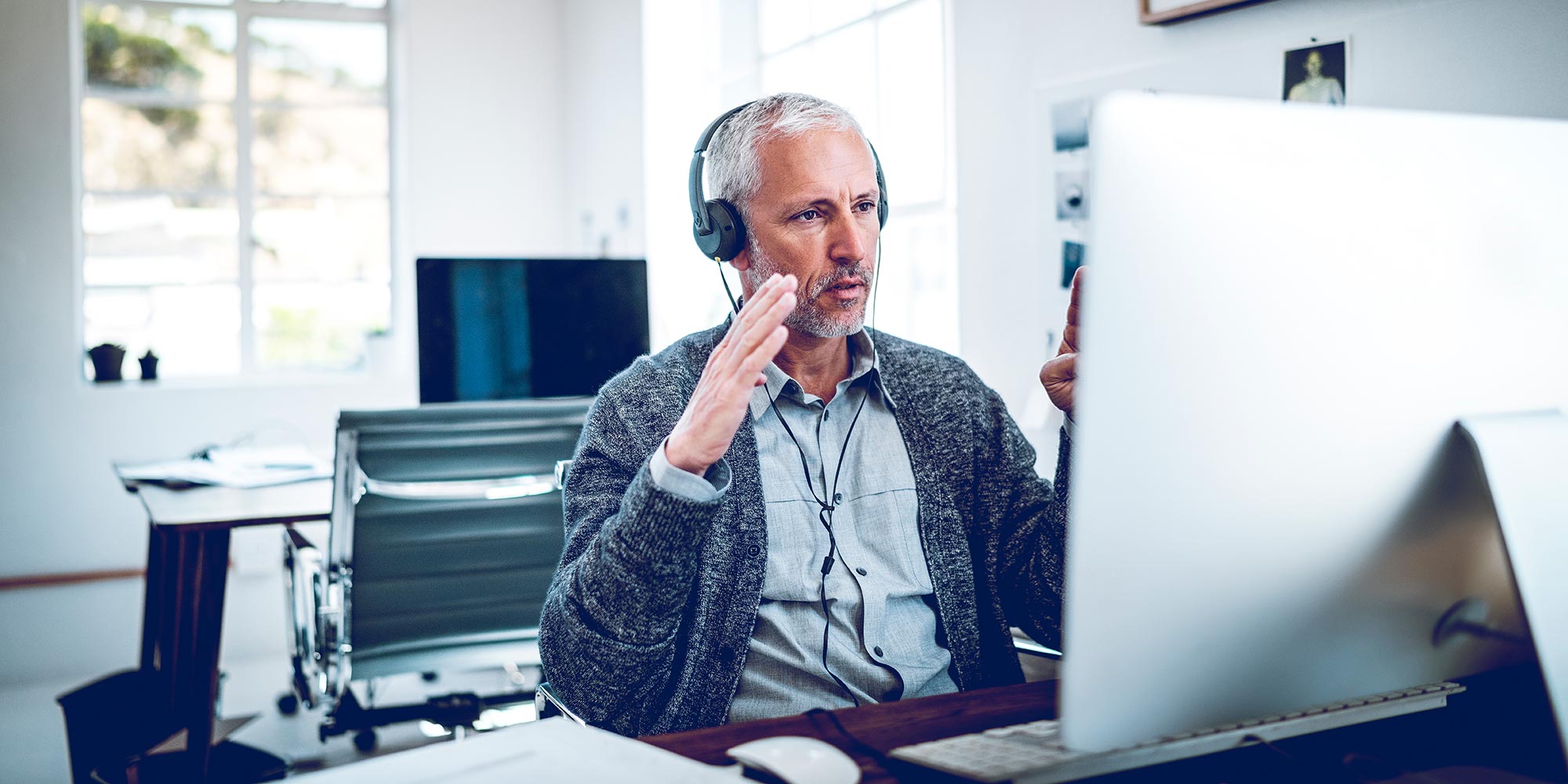 Managing Challenging Conversations - Virtual
About the program
Delivering corrective feedback or confronting team members on performance issues is tough enough no matter what environment you're in - remote, face-to-face, or hybrid. Emotions can add an additional layer of complexity, which can lead to avoidance and letting issues fester.
In this highly practical half-day program, you will explore the principles of effective feedback and productive confronting, and learn a set of skills that you can use to have challenging conversations in a way that minimizes defensiveness and delivers positive results.
In this program you will learn:
How to deliver corrective feedback in a variety of different settings and work environments"
How to maintain openness to change
Methods of minimizing your own emotional reactions
You will leave with a set of highly practical skills that you can immediately put to use in the current environment.
Dynamic virtual classroom
Participate in the program from anywhere. Our virtual classroom combines live, interactive video instruction with breakout sessions, panel discussions, and expert Q&A.
Who should attend
This program is designed for anyone in a management role, including those new to managing, as well as leaders hoping to boost performance within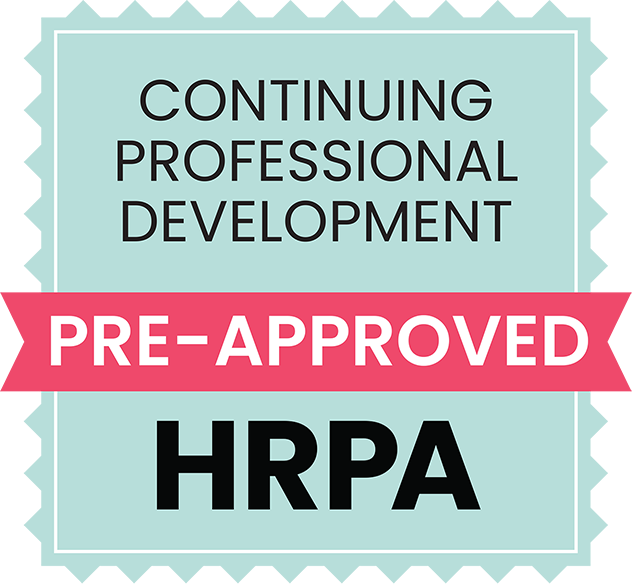 Queen's Managing Challenging Conversations is also designated as an approved HRPA continuing professional development activity.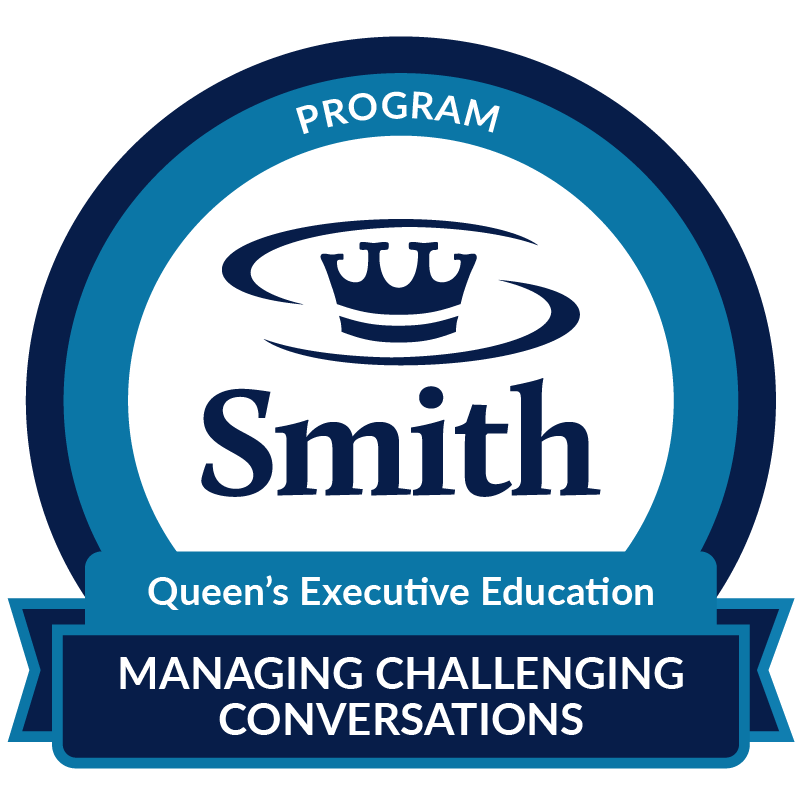 A Recognized Symbol of Excellence
Participants who complete the program earn the Managing Challenging Conversations digital badge credential.
Personal benefits
This program will help you become better at one of the most challenging parts of a being a leader. You will leave with:
A stronger mental model of how to approach challenging conversations
More confidence in your ability to resolve performance issues
Fewer reasons to delay difficult conversations
Organizational benefits
Organizations will benefit from facilitating their leaders' development. They will:
See quicker resolution of potentially high stakes situations
Have fewer issues that fester and drain productivity and morale
Have fewer people under-performing in ways that they are unaware of
See organizational flashpoints dealt with in a productive way with greater frequency
The program covers the following curriculum:
How to effectively deliver corrective feedback
How to avoid the four traps that can trigger defensiveness rather than reflection and openness to change
A practical map for confronting issues in a way that is direct but focused on development and preserving the relationship
How to deliver an opening statement that will minimize defensiveness and promote open exploration of challenges
How to move through the resistance that is part of a challenging conversation
How to move to resolution and accountability
How to prepare yourself to minimize your own emotional reactivity
Dynamic Virtual Classroom
Participate in the program from anywhere. Our online learning platform combines live, interactive video instruction with breakout sessions, panel discussions, and expert Q&A.
Our learning platform is fully encrypted, allowing you to connect securely from home, office or anywhere in between.
Virtual programs are designed to fit within your schedule, allowing you to learn new skills and immediately put them to work.
Please note: Our Executive Education Virtual Classroom leverages Zoom for content delivery and participation collaboration. Please consult with your IT administrator if you have any concerns about platform access or setup requirements.
Session Leaders
Session leaders include senior professors from Smith School of Business and knowledgeable experts from industry. These outstanding teachers are constantly in touch with today's business world through real-world business experience, Board memberships and their own consulting practices.
Garry is a lawyer, an instructor at Queen's Smith School of Business, a coach development expert, and holds a Master's Degree in Sport Psychology. He spent the first five years of his career in the world of corporate law before a passion for coaching led him to switch careers to become a professional swimming coach. He then spent the next eight years directing elite swimming programs, first in Canada and then in Southern California—arguably the most competitive swimming environment in North America. Looking to combine his business experience with his coaching background, he joined Third Factor - a company focused on helping individuals, teams, and organizations harness the power of pressure. Since then, he has worked with high performers in the worlds of business, Olympic sport, healthcare and education, helping them apply the principles of coaching, collaboration and resilience in their most crucial performances.
Upcoming Sessions
​ Session Date
Apr 9, 2024

1:00 PM - 4:30 PM ET
​ Location
Virtual Classroom
Program Fees
$725 CAD
(plus applicable taxes)
​ Session Date
Sep 17, 2024

1:00 PM - 4:30 PM ET
​ Location
Virtual Classroom
Program Fees
$725 CAD
(plus applicable taxes)
Get Notified of Upcoming Sessions
Sign up to be notified when new dates are posted.