Home office solution wins 2022 Kinnear New Venture Competition
Posted on

April 12, 2022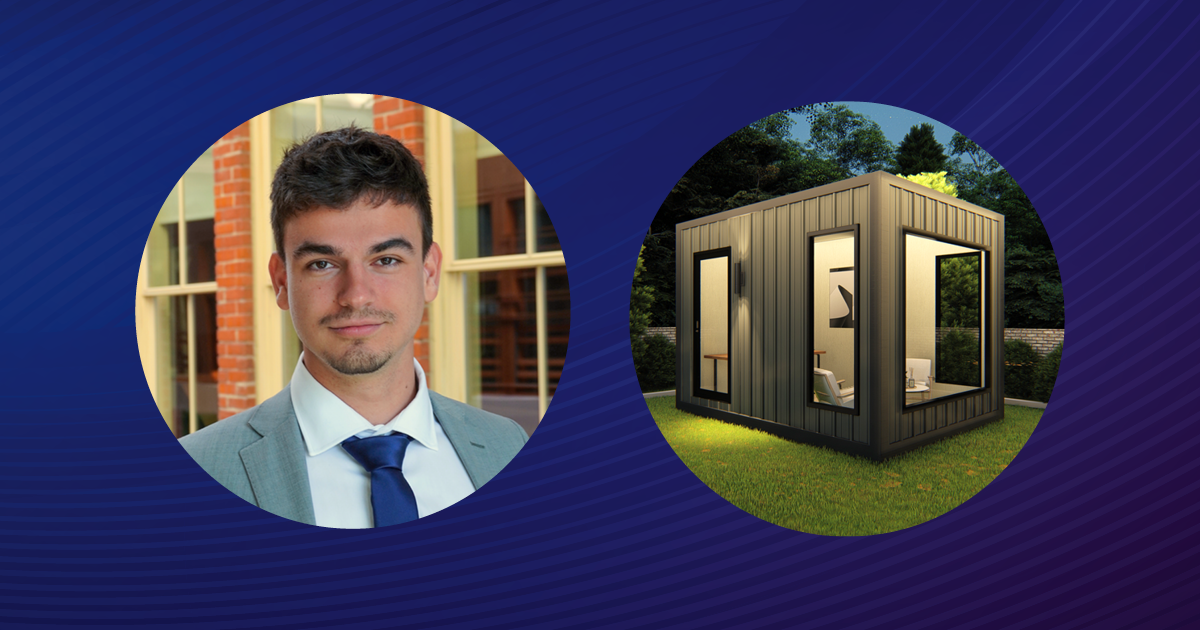 Kingston, Ont. – A Smith Commerce student's space solution for the remote workforce has won this year's Paul and Tom Kinnear New Venture Competition, hosted by the Centre for Business Venturing (CBV) at Smith.
Nikola Cugalj, Comm'22, has received $10,000 to develop his business, EcoPod, which designs and builds four-season backyard studios that can be used as home offices, workout spaces, music studios and more. The idea was born out of the course Comm 405 and developed into a minimum viable product before the first model was sold. EcoPod already has approximately 10 orders in its pipeline.
"We will use the money to create new and beautiful designs, market our product and brand, and invest in our e-commerce capabilities," Cugalj says. The Ottawa-based company currently offers three customizable models, and another two are coming soon.
Since its creation in 2008, the Kinnear New Venture Competition has supported 18 Smith undergraduates and their entrepreneurial ventures. These funds are critical at the early stage of business and increase the odds of success.
"I am always humbled and motivated by the talent of the entrepreneurs coming out of the Smith Commerce program," says JP Shearer, associate director for the CBV.  "I am grateful to Paul and Tom for their dedicated support, and I look forward to continuing to coach these ventures in the future." 
The other three finalists were Calin Ranger, Comm'22, founder of Chaordinem Consulting; Abby Brewer, Comm'24, founder of Sew Brew; and Jay Lee, Comm'22, co-founder of Pally. Students who did not receive funding were offered invaluable feedback and mentoring from the judges.
On the panel of judges to determine this year's winner were Mark Balovnev, BCom'19, co-founder and vice-president of operations, Educhain (acquired); Adrien Bettio, BCom'17, co-founder of swim and activewear brand 437 (former winner of the Kinnear New Venture Competition); Kelly Thomson, BCom'16, co-founder of reusable e-commerce packaging company QUIL; and Arnon Vered, AMBA'09, entrepreneur, investor and management consultant at Vered Management Services.
About the CBV
The Centre for Business Venturing at Smith School of Business is committed to being the leading and definitive source of knowledge and expertise in the creation, leadership and management of new ventures. Its purpose is to support research that will enable an understanding of the key success factors for entrepreneurial ventures, and translate and make this information available to the new venture community for long-term sustainability and growth, and to afford students the opportunity to gain invaluable business venturing experience.