2022 Dare to Dream winners announced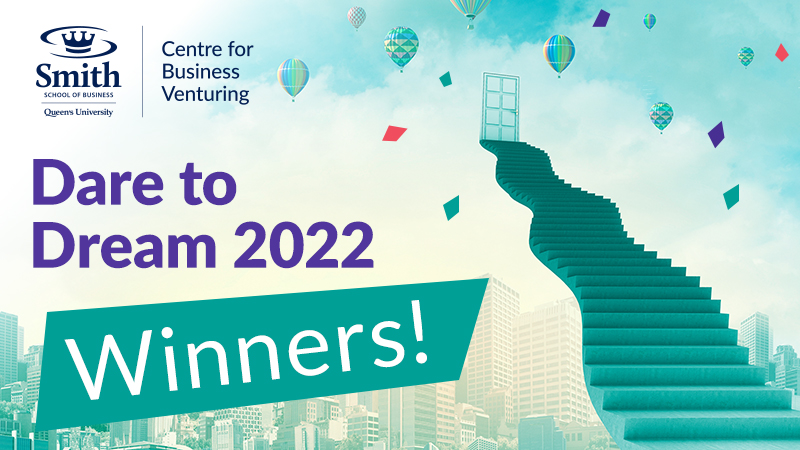 Kingston, Ont. – Four early-stage business ventures led by Smith School of Business students have been given a boost in funding from Smith's Dare to Dream program.
Two Commerce students, one Master of Management, Innovation & Entrepreneurship student and a team of Executive MBA program students were awarded $15,000 each, as well as access to critical resources to build the following businesses: 
Designed to support new ventures at the early stage of their business, Dare to Dream funding comes at a critical time in the building of the entrepreneurial pathway – it is simple, flexible, and alleviates the need for entrepreneurs to look for the backing of outside investors, allowing them to give full attention on the business. 
"As a Dare to Dream recipient, I'm able to use the funds to continue the growth of my startup Pally, without looking at more complex forms of funding such as venture debt and venture capital, allowing me to focus on running the business and helping SMBs," says Jay Lee, BCom'22.
In addition to funding, Dare to Dream recipients also have access to office space, coaching and mentorships through the donor-funded program that is run annually through Smith's Centre for Business Venturing.
"Participants gain feedback, advice and funding at a critical early stage of their business career. We all benefit when new entrepreneurs receive the support and guidance they need to turn their enthusiasm, energy, and ideas into a viable start-up," notes Bob Peel, EMBA'99, president of Happy Boss and a Dare to Dream judge.
Peel was joined by fellow alumni Nicola Von Schroeter, BCom'88; Cynthia Phillips, BCom'84; Deanna Werklund, EMBA'14; and Christian Hansson, BCom'04, in judging this year's applicants.
"The opportunity to participate as a judge in Dare to Dream was extremely rewarding. I was impressed with the applications received, particularly the innovative thinking and range across sectors," Peel says.