New faculty faces at Smith
Posted on

August 12, 2021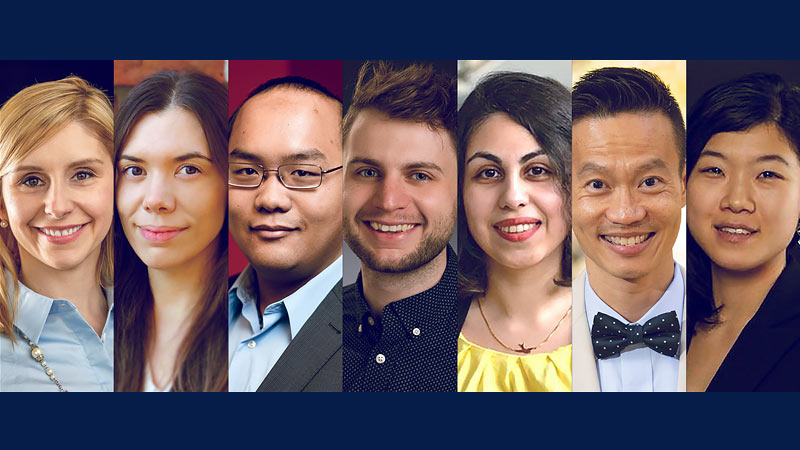 Kingston, Ont. – Smith School of Business welcomed a new group of faculty to its roster of outstanding teachers and distinguished researchers in recent months.
The seven additions bring to the school expertise in accounting, analytics, strategy, business economics and equity and inclusion, as well as a diverse range of research interests.
The new faculty will begin teaching this fall and winter. They are:
Elaheh Fata, Assistant Professor of Management Analytics
Fata recently completed her PhD in controls in the department of aeronautics and astronautics at MIT and will teach operations management in the Commerce program. Her current research looks at performance guarantees in online resource allocation and online advertising, and using online learning methods to learn the preferences of online users to help businesses improve their revenues. Her research interests include data-driven revenue management, online marketplaces, online matching, machine learning and fairness in machine learning.
Evan Jo, Assistant Professor of Finance
A recent graduate of McGill University's PhD program in finance, Jo will teach financial technology and innovation to Commerce students and also lecture in the MSc and PhD programs. His research interests include asset pricing, capital markets and credit risk. Jo's current work explores how to measure, price and share risks in capital markets.
Michelle Lee, Assistant Professor of Strategy and Organizations
Lee is currently studying how the social class background of executives influences their careers. Her broader research interests include social class, corporate elites, shareholder activism, social evaluations and corporate social responsibility. Prior to academia, Lee worked for Deloitte and Mazars in technology consulting and public accounting. She holds a PhD in strategic management from the University of Washington and will teach business and corporate strategy in the Commerce program. 
Paula Lopez-Peña, Assistant Professor of Business Economics
Lopez-Peña studies how non-cognitive skills and adverse life events affect health and labour market outcomes. Her current projects focus on entrepreneurship, firm productivity and the causes and consequences of violence. She earned her PhD in economics from the University of Warwick and was a postdoctoral associate at Yale University. Prior to her doctoral studies, she worked as a research fellow with the Inter-American Development Bank in Washington and Nicaragua. She will teach principles of economics for business in the Commerce program.
Eddy Ng, Smith Professor of Equity & Inclusion in Business
Ng's research focuses on managing diversity for organizational competitiveness, the future of work and managing across generations. Before coming to Smith, he was the James & Elizabeth Freeman Professor of Management and DEI Faculty Fellow at Bucknell University. Prior to academia, he worked for TD Bank Financial Group in commercial banking, domestic planning, corporate audit and group human resources. He earned his PhD from McMaster University and will teach human resources management to Commerce students.
Erica Pimentel, Assistant Professor of Accounting
A recent graduate of Concordia University's PhD in accountancy, Pimentel worked in public accounting before entering academia. Her research explores how technological disruption impacts the ways in which auditors do their jobs. She is currently studying how remote work arrangements and blockchain affect audit practices. Pimentel is interested in how professions are changing in light of new technologies, and the ongoing crisis of expertise. She will teach financial accounting in the Commerce program.
Blake Steenhoven, Assistant Professor of Accounting
Steenhoven studies the judgment and decision-making of investors, managers and other capital-market participants in financial disclosure settings. His recent work focuses on verbal and non-verbal behaviour in financial communications, with the goal of helping managers communicate more effectively. Before earning his MSc and PhD in management from Cornell University, Steenhoven was an auditor at KPMG. He will teach financial accounting in the Commerce program.