With increased global demands for climate data, new research shows Corporate Canada must step up its game
Posted on

April 8, 2021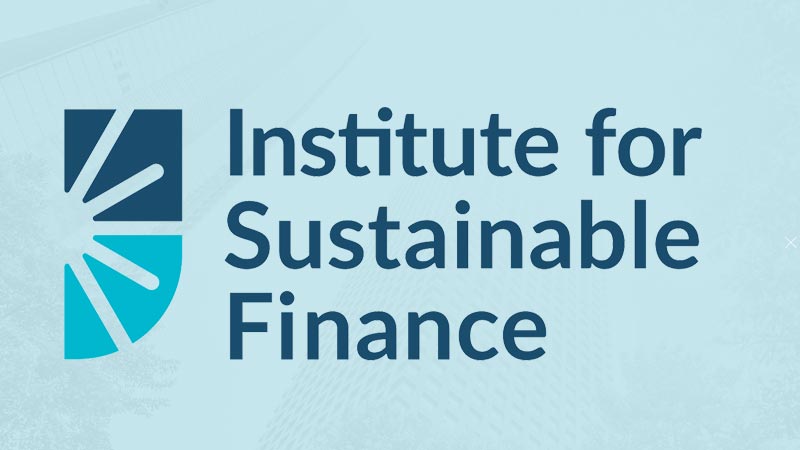 Kingston, Ont. – Today, the Institute for Sustainable Finance released the first-ever assessment of TSX companies' climate target and disclosure performance. The key finding:  Corporate Canada falls below several of its global competitors. 
The new report – Assessing Current Canadian Corporate Performance on GHG Emissions, Disclosures and Target Setting – highlights the need and opportunity for corporations to close gaps in order to secure their own and Canada's competitiveness in the global transition to a low-carbon economy. Given the push from financial institutions and shareholders for more and better climate-related information, this report takes the first comprehensive review of the performance of firms on the S&P/TSX Composite Index, which includes over 200 of Canada's largest companies. 
"Despite progress from Corporate Canada, investors are still facing real limitations in getting the information they need from Canadian corporations as they try to assess their carbon exposure," says Sean Cleary, co-author of the report and Chair of the Institute for Sustainable Finance at Smith School of Business, Queen's University. "This lack of required information creates very real impediments to financial institutions with respect to their capital allocation decisions and their risk management processes." 
The research shows that only two-thirds of Canada's publicly traded firms disclose GHG emissions, which is similar to US firms, but well below those in the EU and the UK.  Meanwhile only a quarter of Canadian companies have set climate targets compared to more than half of companies on the S&P 500, and two-thirds of large UK companies.  
"The bad news is, we are clearly behind our peers—particularly in Europe and the UK. The good news is, those Canadian companies that are disclosing GHG emissions and setting climate targets are among our largest emitters," explains Dr. Cleary. The research shows that while only 60 companies on the TSX have set climate targets, those companies account for half of the index's emissions.  Achieving those targets could lower the index's carbon profile by close to 20% by 2030.  "Obviously, the actions of Canada's largest emitters are critical to achieving progress. If the big emitting firms on the TSX that have climate targets successfully achieve them, that is going to have a significant impact."
The report also notes that among the TSX companies with targets, 15% have published a detailed plan to reach them, while another 62% provide less detail but do communicate some relevant information about how they plan to hit their goal. In addition, a quarter of these companies link achieving climate targets to executive compensation, while another 47% have incentives that are more loosely tied to climate-related issues. 
"Canadian firms need to come to terms with what the market is demanding," says Jim Leech, Chancellor of Queen's University and former President and CEO of the Ontario Teachers' Pension Plan. "Investors and financial institutions want not only more climate disclosure data, they also want ambitious climate targets that are supported by credible plans to achieve them. If we want to mobilize the domestic and international capital necessary to compete in a low-carbon economy, we must step up our game."
Key Findings
Publicly traded Canadian firms are disclosing GHG emissions and setting climate targets – but at rates significantly lower than global competitors. 
While 2/3rds of Canada's publicly traded companies disclose GHG emissions, a breakdown in line with the US, this is behind Europe and the UK – which show 10 and 30 per cent higher disclosure levels, respectively. 
Only 27% of TSX companies have stated emissions targets, far lower than the 53% on the S&P 500 and 67% on the FTSE 100 indices.
In cases where targets exist, the level of detail provided in plans to achieve commitments, as well as the link to compensation, varies significantly across firms. 
Only 15% of TSX companies that state climate targets have a detailed plan for achieving them, while another 62% provide some level of detail. 
Only 25% specifically link achieving those targets to executive compensation, while another 47% provide less specific climate-related incentives.
The small number of firms that are setting targets are among Canada's largest emitters— their actions have an outsized impact on progress.
If all 60 TSX companies that have climate targets achieved them, they would collectively reduce their emissions by 34% and the overall emissions of the TSX by 17% by 2030.
If the 23 companies that have targets in the "Top 40 emitters" category of the TSX achieved them, the impact would be almost the same as all 60 companies achieving their targets.
The GHG contribution of the top 40 reporting emitters accounts for the vast majority of all reported emissions, and two thirds of total estimated emissions by TSX Index companies. 
Resources:
Media Contact
Maya Saryyeva
Associate Director, Institute for Sustainable Finance
maya.saryyeva@queensu.ca