The summer issue of Smith Magazine is now out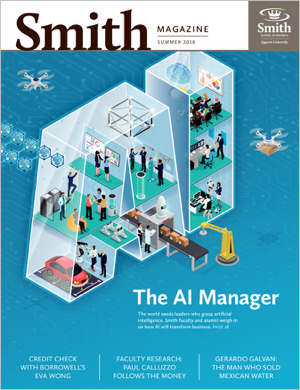 Kingston, ON — From high finance to the factory floor, artificial intelligence is reshaping business. But no matter how smart artificial intelligence gets, humans still need to lead the way. That requires a new type of leader: the AI manager.
The surging demand for managers with AI expertise is examined in the latest issue of Smith Magazine. As Steve Thomas, Director of the new Queen's Master of Management in Artificial Intelligence, says: "AI won't replace managers, but managers who use AI will replace managers who don't."
Read the full story here.
Smith Magazine, for alumni and friends of Smith School of Business, features school news, in-depth stories, profiles of fascinating graduates and faculty, as well as updates from alumni from around the world.
Also in this issue: