Convocation address by Michael Kehoe, BCom'78, CEO, Cosmetica Laboratories Inc., member of the Queen's School of Business Advisory Board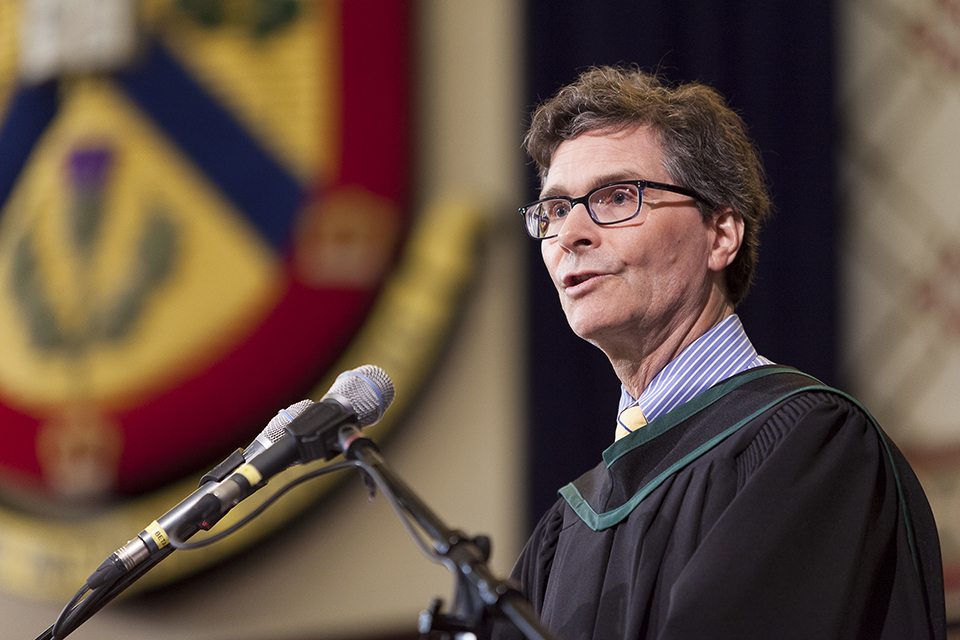 Convocation address by Michael Kehoe, BCom'78, CEO, Cosmetica Laboratories Inc., member of the Queen's School of Business Advisory Board
Mr. Kehoe delivered the following address on May 22, 2015, to the graduating class of QSB's Full-time MBA and Accelerated MBA for Business Graduates programs.
Chancellor Leech, Provost Harrison, Dean Saunders, Rector Young, members of our outstanding faculty and staff, and MBA graduates, family and friends it is a real honour and a pleasure to be with you today.
To our graduates in particular—congratulations! You've earned a Masters degree and made an investment in yourselves that will forever stand. You, and the families that have supported you, have a lot to be proud of. As I understand it, you've also made some history—the Full-time MBA class was first to start in January, and from all reports, you pioneers have been most successful, and the January start is here to stay. The Accelerated MBA class represents a wonderful mix of more than 30 industries and agencies, and geographies across Canada. Most exciting, your two classes together have a record 40% female proportion of the class, well above MBA norms around the world, and I can see how wonderfully diverse this class is!
When Dean Saunders asked me to speak today, I thought to myself—expectations for wisdom have never been higher. So, I will set expectations nice and low. Wisdom it is not, but perhaps a nugget or two of advice.
I'd like to spend my few minutes with you talking about something you won't be taught in most classes or training programs. I'd like to talk to you about developing your own personal leadership model—a construct that might serve you over the coming years and decades.
I submit that there are many character traits required to succeed in both career and life, but none so important and none in such short supply as leadership. Businesses, organizations, non-profits, governments, entrepreneurships: they all crave it.
There are a plenty of gurus opining on "how to lead"—enough to make it downright confusing, in my opinion. For contrast, there is "servant"-styled leadership, and there is also "follow me, or get out of my way" styled leadership. While I have my general preference, clearly both of these approaches work, depending on who you are and what situation you face. So, I won't attempt to tackle the "how" to lead, but rather I'll focus on a simple, high-level look of the "what" to focus on in developing your own leadership model.
So, here's my little story. I was lucky enough to start my career with a company that really valued leadership, and I was doubly lucky to have an early mentor-boss who first mentioned the concept of "authoring you own personal leadership model". It stunned me that someone would even think about authoring a leadership model, especially one's own. His advice at that time was to focus my leadership on two things: 1) the business, and, 2) the people. Each should have equal importance. Focus half your energy on leading and knowing your business better than anyone else—be curious, proactive, and resourceful. But, equally, focus the other half on people—develop those who report to you, build strong relationships with those around you, train, teach, coach. Invest in people.
Now, most of you know from prior work experience that the excuses to ignore the people side are many—too busy on the business, deadlines, meetings—but we all need to remember that great leaders get results through others, not by themselves. Jim Collins's book "Good to Great" has a wonderful message about Level 4 leaders, and how the companies that made the jump to "Great" made that transition with leaders who were humble, and very focused on the people side of the business.
So, at this early juncture, my leadership model was now on two strong legs—business and people. I had also arrived at a visual metaphor for the leadership model: the humble stool and its sturdy legs.
It was later in my career when I had additional responsibility for all of the new product innovation in our business that I realized there might be a third leg in my leadership model: leading ideas.
Leading ideas is very hard work. The status quo is a great killer of new ideas. Time and money are often required, and they are usually in short supply. To really lead ideas, one needs patience, conviction, listening skills, the ability to recognize creativity when it is sometimes buried, problem-solving skills, and tolerance of failure. These are somewhat different skills from those required to run a good business or be a great people-leader.
For the last 20 years or so, I've tried to focus my leadership model equally on those three legs of the stool, and I attempt to literally spend about one-third of my time on each element of the business, the people, and ideas.  
Now—a question.  If leading the business, people and ideas is a valid leadership model, is it enough? The world you are entering is different from the one I entered. It is my belief that the enlightened leadership model of your generation will include a 4th leg to the stool: leading with social impact.
You've been exposed to so much more of the values-based approach to your career here at Queen's through such influences as the Centre for Social Impact, and I think it is sinking in for all of us that our planet and its inhabitants will need your generation's leadership on so much more than just making business progress. The exciting thing is that there are plenty of win/wins available for those who want to have a successful career and help build a better planet at the same time. I fully expect when one of you steps up to this podium to address the graduates of MBA—say—2045, your story will be full of the social impact you created in your career and in life.
Speaking of life, it wouldn't be right to conclude without a comment on life and career. For me, my career had to be in balance with my life outside work. It made me a better person, and ultimately a better leader.
Last month was an especially busy one for us at the office. But eight Queen's graduates, (including, happily, me), met for four days to play golf and catch-up—for the 35th straight year, I might add. This anecdote was only meant to suggest that your leadership model makes time for fun, and a hope that you, too, will carry lifelong friends with you from this great place called Queen's.
I wish you all the success in the world. Consider what your leadership model will be as you move forward. Yours can and should be different from mine, and should play to your strengths. You don't need to be a CEO to have a leadership model—yours can begin with the very next step of your career, and then make it a continual work in progress.  
You are wonderfully gifted people, and I can't wait to hear about how well you've all done over these coming years by being great leaders!
Thank you, and hearty congratulations to you all!