MBA class raises $10K for Right To Play with a little help from Olympic Hurdler Perdita Felicien
Posted on February 15, 2013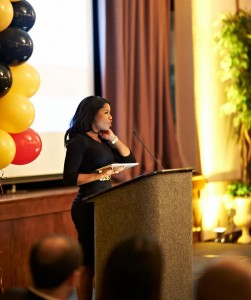 Feb. 14, 2013 – Kingston Teamwork and return on investment are concepts Queen's full-time MBA students understand all too well. When the Class of 2013 was looking for a charity to support, they employed some of the tools they've learned in the program to select Right To Play as its charity of choice.
"Right To Play was a great fit," explains Mitch Gudgeon, the initiative's head chair. "Its focus on teamwork, sports and play aligns with the Queen's MBA team-based approach. We understand the benefits and values children learn when they're put in an environment that facilitates play. We were also impressed with Right To Play's low administration costs (15% versus up to 60% compared to other charities)."
With the due diligence phase complete, a 17-member organizing committee kicked into action. First up was a combo Kingston Frontenacs hockey game and disco skating night at the K-Rock Centre on Feb. 1. The event raised $1,200 (thanks to the Frontenacs' contribution of half of each ticket's price) and brought out 120 students, faculty and staff. By exercising their finely honed organizational, marketing and communications skills, the committee pulled out all the stops for the Gala held on Feb. 9 at the Ambassador Conference Resort Hotel. Keynote speaker Perdita Felicien, a member of Canada's Olympic track and field team, gave a powerful speech that brought the crowd of 130 to their feet. "Your darkest hour does not define you: Rebuild!" and "Surround yourself with excellence" were just two of her inspirational messages.
A silent auction comprised of items donated by members of the QSB and local Kingston community raised nearly $2,000, bringing the overall total to $10,000 to benefit Right To Play. Sponsors and donors included Continental Corp, Molson Canadian, Gananoque Brewing Co., Pelee Island Winery and Vineland Estate Winery.
"This was a tremendous experience for all who got involved," says co-chair Lindsey Lachance. "We learned a lot in the process, but the most important outcome will be helping spread the joy of play and the many values that come with it to children around the world."
"We're hoping that next year's class will pick up the baton and run with this so that our philanthropic initiative will become a legacy project that makes a difference for years to come," says co-chair David Sinkinson.