ICBC #35 Brings the World to Queen's
Posted on January 16, 2013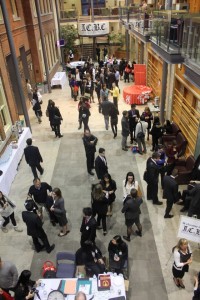 Kingston – Jan. 5, 2013 The 35th anniversary of the Inter-Collegiate Business Competition (I.C.B.C.) kicked off the New Year on Jan. 3-5, attracting more than 200 competitors, judges and sponsors from around the world. Schools from Thailand to Norway, as well as many from Canada, sent representatives to compete in this exciting three-day annual event.
The International Invitational component welcomed competitors from five schools: Hong Kong Polytechnic University, BI Norwegian Business School, University of Navarra in Spain, Queensland University of Technology and University of New South Wales from Australia. The international perspective enriched the competition and challenged Canadian competitors. Faculty advisors, sponsor representatives and the Queen's volunteers contributed to a lively and dynamic event, with thrilling competition and many takeaways for all stakeholders.
Concordia University, the University of Calgary and the University of British Columbia had great showings, with Calgary placing in nearly all events, winning in Debate and Accounting. The spirit was contagious as schools brought their colours and unique personalities to each event. A large contingent from Saint Mary's University showed their spirit, sporting their red and white scarves at every event. The University of Notre Dame, competing for the first time, placed first in the Business Policy event.
A new event this year, the Show Debate, was a crowd-pleaser. Four long-standing debate judges enthralled the audience with their thrilling debate on the role of technology in the current business environment. The University of Calgary's debaters took top prize in the annual Final Debate after the famed bagpipe procession from Goodes Hall to Dunning Auditorium.
For a complete list of results, visit www.icbcqueens.com. For more photos from the weekend, please visit the I.C.B.C. page on Facebook.