ComSoc's Jail-N-Bail raises $10K for the Canadian Cancer Society
Posted on January 17, 2013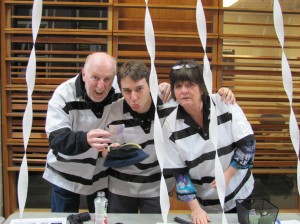 Kingston – Jan. 16, 2013 Student, faculty and staff jailbirds were behind bars in the BMO Atrium of Goodes Hall until bailed out by generous supporters who contributed in person and online. By the end of the afternoon, $10,000 had been raised! All proceeds are being donated to the Canadian Cancer Society to support its mission to eradicate cancer and enhance the quality of life for people living with cancer. This second annual Jail-N-Bail event was organized by the Commerce Society's Outreach Commission.
Jailbirds included Prof. Kate Rowbotham, Commerce Office stalwart Julie Carty and Prof. David McConomy, as well as numerous Commerce students who were nominated by their peers for a variety of offences (e.g. stealing leftover conference food; overusing gold face paint). There was an outpouring of support for Prof. McConomy – more than $2,000 was raised in his name.
Online donations are still being accepted. You can choose to support specific individuals or contribute to the event as a whole.
Click here to check out the Jail-N-Bail Facebook page