9th Annual Responsible Leadership Summit explores pathways to social change
Posted on October 25, 2013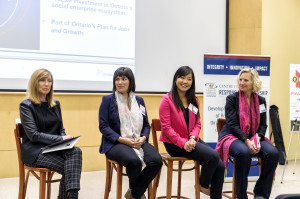 Oct. 25, 2013 – Kingston -  How do people become change-makers, effecting a long-lasting, positive social impact in both their communities and professional lives? The pathways to social change are abundant, as delegates learned at this year's 9th Annual Responsible Leadership Summit, held Oct. 18-19.
In attendance were nearly 300 participants, mostly Queen's Commerce, MBA and Master of International Business students enrolled in the Certificate in Responsible Leadership program, as well as members of the general public.  Delegates participated in panel discussions, workshops and plenary sessions delivered by 27 speakers, all leaders in either the corporate or non-profit sectors.
The opening keynote address was delivered by Janet Longmore, BCom'79, The World Economic Forum's Schwab Foundation Social Entrepreneur of the Year, Founder & CEO of Digital Opportunity Trust and Social Entrepreneur-in-Residence at the QSB Centre for Responsible Leadership. The closing keynote featured Andreas Souvaliotis, Founder of AIR MILES for Social Change, author of the recently published, "misfit, changemaker with an edge," and Chair of the Centre's External Advisory Board.
Featured presenters also included Paul Pellizzari, Executive Director, Policy & Social Responsibility, OLG; Tony Pigott, Global CEO, JWT Ethos; Helen Burstyn, Special Advisor, Social Enterprise, Ministry of Economic Development and Innovation Ontario; and Jane Roos, Founder & Executive Director, Canadian Athletes Now Fund.
"The Centre is grateful to the inspiring speakers, engaged delegates and generous sponsors who made this event a tremendous success" says Dr. Tina Dacin, the Centre's Director. "We are very excited to begin planning the 10th Annual Responsible Leadership Summit, taking place next Oct. 17-18."
A full list of speakers and sponsors are available on the Centre's Summit website.