Kevin Frid, EMBA'00, is Fairmont Hotels' new President, Americas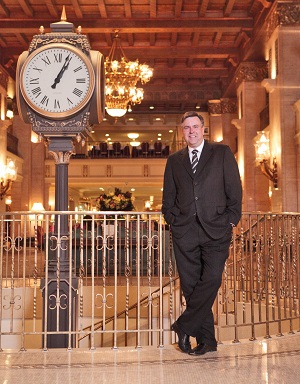 The newly appointed President, Americas, of FRHI Hotels & Resorts (FRHI) – the parent company of leading brands Fairmont Hotels & Resorts, Raffles Hotels & Resorts and Swissôtel Hotels & Resorts — is on the road virtually every week, checking into and in on some of the world's most iconic hotels. The Fairmont Royal York in Toronto; Raffles Singapore; New York City's The Plaza; London's The Savoy; and Istanbul's Swissôtel The Bosphorus — these are just a few of the world's finest hotels that are managed under the FRHI banner.
Kevin caught the hospitality bug early, as a 15-year-old bellman at the 250-room Holiday Inn in his native Hamilton, Ont. "It's still the best job I ever had," he says, jokingly. "Being a bellman is lucrative for a young man. It also allowed me to experience almost all aspects of the hotel's operation. Whenever help was needed, at the front desk, at banquets, or providing security, I'd often get the call."
The experience influenced his future path, from studying Hospitality and Tourism Management at Ryerson, to his first job after graduating. He and approximately 30 of his classmates were hired to help open Canada's Wonderland, a huge entertainment park north of Toronto that debuted in 1981 with Wayne Gretzky raising the Canadian flag on opening day.
A year later, he was offered a job as Controller at the Delta hotel in Saint John, N.B. "We'd never hire me today," he says, with a laugh. "I didn't have an accounting background and had never worked in an accounting office before. But I was ready, willing and able to pack up my car and go at a moment's notice."
That was the start of an 18-year career with Delta Hotels & Resorts that saw him move across Canada, landing increasingly senior management positions in Whistler, Vancouver, Penticton, Winnipeg, Ottawa and Toronto. Each posting offered its own unique advantages, he recalls. He arrived at Whistler when the town and many of its hotels were either bankrupt or teetering on the edge. "It was really fascinating to work at a premier ski resort that was in its infancy and struggling to get off the ground," he says. The winters were incredibly busy, so he remained a casual skier, but the quiet summers did wonders for his golf game, Kevin says. His time spent in British Columbia was memorable for more personal reasons. It was at Whistler's Delta Mountain Inn where he met his wife, Lynne. They would go on to raise a family of four children, including son Ben, who is currently a third-year medical student at Queen's.
By 1998, Kevin was the Senior Vice President of Operations for Delta in Toronto and was assessing his career options. He saw how the career of Simon Cooper, then-President of Delta Hotels and Kevin's mentor, had progressed at a rapid pace after attaining his MBA. Kevin took note and researched his options, deciding that the Queen's Executive MBA program would be the best fit. "Queen's had pioneered the Executive MBA format and had been a market leader for years," Kevin says. "It was a program geared to someone working a lot of hours in a full-time job and the videoconferencing aspect also appealed to me."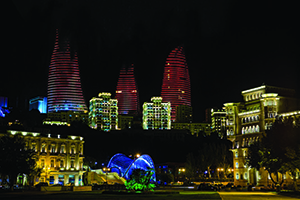 Fairmont Baku in Azerbaijan He credits the program with helping him change his way of thinking. "I went from being very mechanical and technical in my thought processes to being very strategic," he says. "Even today, I still apply the things I learned, often on a daily basis."
The team-based learning aspect was equally influential, he says. "We had a very eclectic group, which was a big part of the experience. We had entrepreneurs, lawyers, doctors, those who worked for government or in the private sector. My teammates still meet about eight times a year. I don't get to meet with them as often as I'd like, but they're still people I'm connected to."
Shortly after he graduated in 2000, Kevin met with the President of Fairmont Hotels & Resorts, the company that had acquired Delta Hotels two years earlier. "I told him that I felt I'd gone as far as I could go with Delta, and that I'd probably be moving on, as I was hoping to work in the U.S."
Within a few weeks, he was offered his first U.S. posting, as General Manager of the Fairmont Chicago and Regional VP of the Eastern U.S. and Bermuda. "It was a fascinating transition," Kevin says. "There was a lot to learn in running a 700-room hotel. Chicago is a city that lives and dies by its citywide conventions, attracting some of the largest in the world. I had to learn the ways of a big U.S. city — what moved things, what shook things, and how to make an impact."
Overseeing properties in the Eastern U.S. and Bermuda added another level of complexity that Kevin welcomed. It also ramped up his travel schedule exponentially. Chicago turned out to be a longer-term posting than any of his previous ones. Kevin continued his rise through the ranks, attaining the position of Executive Vice President, Operations, for the Americas and Europe prior to his appointment as President, Americas, in July 2013. In this newly created role, he oversees the more than 45 hotels in the company's largest region, while his counterpart is responsible for the International division (essentially, the rest of the world).
In a career that has spanned 35 years and counting, Kevin has witnessed many changes that have transformed the hotel industry. "Online booking through third parties has made us all very transparent," he explains. "We used to segment our markets and sell differently to each one. But now, what we're offering someone over here is easily seen by someone over there, so it's changed the way we do business. Online reviews, positive and negative are all out there, and they can have an immediate impact on a customer's decision whether to stay at one of our hotels."
The luxury market is experiencing growth around the globe, and nowhere is this more visible than in Toronto, which has seen recent openings of the Ritz Carleton, Shangri- La, and the return of the Four Season's flagship property, among others. "Toronto has long deserved to have a selection of luxury products," Kevin says. "I think it's about time."
He ascribes this growth to demographic trends, specifically the spending curve that coincides with boomers hitting or approaching their retirement years. "Many baby boomers have accumulated some degree of wealth, they've worked hard and put a little aside. They're not as interested in doing the typical tourist thing, just seeing the usual landmarks. They're looking for experiences and adventures, offerings that luxury hotel brands like ours are increasingly providing."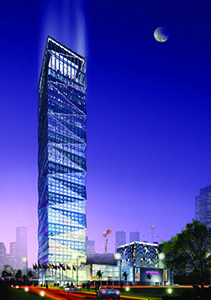 China's Fairmont Nanjing According to Kevin, three main features distinguish FRHI Hotels & Resorts: a portfolio of distinctive properties; the approach to customer engagement and delivery of unique and meaningful travel experiences; and the strong ties of each hotel to its local community. "We're not the largest hotel company in the world," he says, "but I do think we have the most impressive collection of luxury hotels in the world." There are the famous ones — the aforementioned Plaza Hotel, Raffles Singapore, and The Savoy — as well as Canadian historic landmarks Fairmont Le Château Frontenac and The Fairmont Banff Springs. But there are also some spectacular new ones, such as China's Fairmont Nanjing, which resembles a giant Chinese lantern, or the recently opened Fairmont Baku in Azerbaijan, designed in the shape of a flame.
"They are amazing physical structures," he says, "but we have to put the hospitality element into play, because they're just empty shells without the people, both the colleagues (staff) and the guests."
Top-rate hospitality also sets FRHI hotels apart, Kevin says. "We strive for customer engagement, not merely satisfaction. It's not just a matter of simply handing over a room key or processing a credit card. Staff are trained to anticipate guests' needs and empowered to go the extra mile to ensure stays are memorable and meaningful."
Another feature that sets these hotels apart is that they aren't designed in a cookie-cutter fashion. "We're unlike other brands, which offer uniformity," Kevin explains. "Their hotel in Paris looks very much like the one in Omaha, for example," Kevin explains. FRHI hotels embrace their differences, from the modern, sleek Swissôtels to the art deco masterpieces, such as London's The Savoy and Shanghai's Fairmont Peace Hotel. "We don't want guests to walk into one of our lobbies and think, 'ah, another Fairmont.' We want them to feel they're in a hotel that is a vibrant part of the local landscape."
In his weekly travels, Kevin nearly always stays at an FRHI property, all the better to assess the hotels' operations. Occasionally, though, he'll check out the competition, striving for anonymity so that he receives the same treatment as other guests. A recent trip to Toronto provided the opportunity to evaluate the Shangri-La. "When I checked in, I saw that I'd been upgraded, so I thought I'd been recognized. Then, when the front-desk agent escorted me to my room, I was sure of it. So I asked, 'Is this your standard service? Do you always escort guests to their rooms?' And the agent said, "Oh no, that's just for you, Mr. Frid. I used to work with you at the Delta Ottawa 15 years ago!"
The former junior bellman and occasional front-desk helper remembers well what it's like to be on the front lines. When asked whether any lessons learned from his early days in the industry still apply today, Kevin doesn't hesitate. "The industry has changed tremendously over the years in many respects, but the basic fundamentals have not. When someone walks through the doors of one of our hotels, extending a great hand of hospitality is still the fundamental basis of all that we do."