Largest MBA scholarship honours Jim Leech, incoming Queen's Chancellor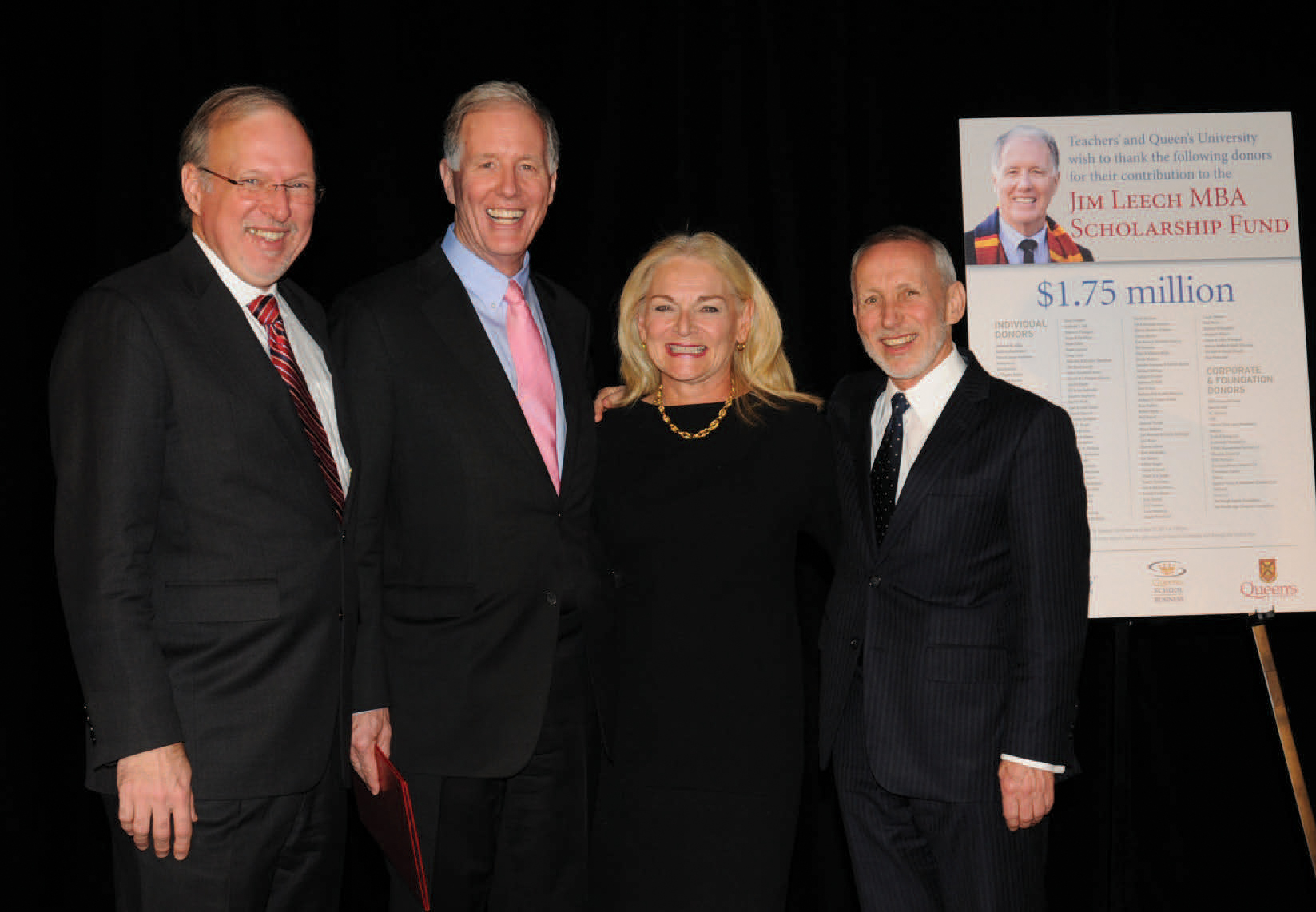 It was a memorable autumn for Jim Leech, MBA'73. In October, he was appointed Queen's University's 14th Chancellor, effective July 1, 2014, succeeding David Dodge. In November, at a gala celebrating his career as President and CEO of the Ontario Teachers' Pension Plan (OTPP), from which he retired on January 1, a scholarship for Queen's MBA students was announced. With an anonymous donor agreeing to match all donations up to $1 million, the Jim Leech MBA Scholarship currently stands at $1.75 million — the largest Queen's MBA scholarship to date.
"Queen's School of Business is honoured to be the recipient of this generous gift in Jim's name," said Dean David Saunders. "It's a fitting tribute, given Jim's service to Queen's as the current Chair of the School of Business Advisory Board and incoming Queen's University Chancellor. This scholarship will help us attract the most promising global leaders to our MBA program."
Jim Leech is the second CEO in Teachers' history as an independent organization, having assumed that position in 2007. Before becoming CEO, he was head of Teachers' Private Capital. Under his leadership, the organization became one of the world's leading private-equity investors, increasing its assets to roughly $130 billion. He has also made a substantial contribution to the ongoing debate about the Canadian pension system, having this year co-authored a book on pension reform called The Third Rail: Confronting Our Pension Failures.
"This is an overwhelming and humbling honour," Jim said of the establishment of the scholarship fund in his name. "I am thrilled to know that Queen's students will benefit from the wonderful generosity of my friends and colleagues."
Jim has a long history of service to Queen's, having served as a member of the Board of Trustees from 1984 to 1996 and as a member of University Council from 1980 to 1984. He is currently a member of the university's Initiative Campaign cabinet, and, as Chancellor, will continue his distinguished service to the University. In addition, he comes from a Queen's family – his father was the registrar at Queen's in the late 1960s and early 1970s.
The $1.75-million endowment will establish scholarships awarded on the basis of academic excellence to students entering the full-time MBA program beginning January 2015.
To make a donation to the Jim Leech MBA Scholarship Fund, please visit www.givetoqueens.ca/jimleech
In this issue
Inside Smith
Features
Dean's Message
Parting Shot
Alumni News
Profiles