Inaugural QSB Faculty Hall of Fame
A highlight of the Spring Reunion Weekend was the unveiling of QSB's Faculty Hall of Fame and celebration of the inaugural honorees at the luncheon held on May 23. The idea originated with David Sculthorpe, BCom'83 and Chair of the QSB Advisory Board, as a way to recognize outstanding faculty members who have made a lasting impact through their teaching, research or service. Alumni, faculty and staff sent in nominations extolling the talents and lasting impressions made by many of the School's professors over the years. The inaugural recipients were chosen by a committee comprised of a broad group of alumni, student leaders, faculty and staff, which benefited from the advice of two QSB historians – Emeritus Professors Merv Daub and Bruce Buchan.

Inductees included both Founders and Contemporary Leaders. The luncheon featured testimonials from colleagues or relatives of the latter group, speaking eloquently and often movingly in tribute to the honorees. Two members of that group, former dean John Gordon and retired professor Norman Macintosh, were present and regaled the gathering with stories from their careers,while acknowledging with thanks the tributes from their former students and colleagues.
The Inductees
Founding Leaders: Outstanding professors who led the development of business education at Queen's, until the business school became a separate faculty in 1963: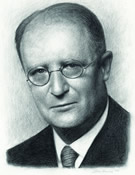 O.D. (Oscar) Skelton (served 1907-1925; Rector 1929-1935), a graduate of Queen's and the University of Chicago, is considered the father of business studies at Queen's. In 1913, he established Queen's extension courses in Commerce and Banking to help advance the professional qualifications of Canada's banking community. In 1919, as Dean of Arts, he was responsible for starting Queen's Commerce program– Canada's first degree program in business. He later added courses in accounting, designed to help Chartered Accountants meet their professional requirements. Due to the innovations of his subsequent career in Ottawa, he is considered the founder of the modern federal public service, which hired a great many Queen's Commerce graduates.
W.A. (Bill) Mackintosh (served 1920-1961), a graduate of Queen's and Harvard, returned to Queen's in 1920 as director of Commerce courses, including the Banking and Chartered Accountant courses. In 1929, he introduced the four-year honours degree format of the Commerce program. In 1963, he was influential in establishing a separate faculty, the "School of Business," having made sure to build it a fine new home in Dunning Hall during his principalship. He spent WWII in Ottawa as an important member of the Department of Finance, returning to Queen's as Principal in 1951. He formally retired in 1961.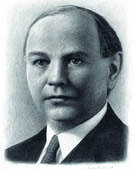 W.C. (Clifford) Clark (served 1915-1923, 1931-1933), a graduate of Queen's and Harvard, was recruited in 1915 to help run the banking courses. With O.D. Skelton, he helped create and run the new Commerce degree in 1919 and the new Chartered Accountant extension courses in 1921. Clark ran the Commerce program until 1923, when he left Queen's to become an investment banker. Later, as Deputy Minister of Finance in Ottawa, Clark greatly influenced public affairs during the Depression,World War II and Reconstruction.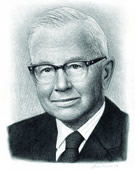 R.G.H. (Reg) Smails (served 1922-1959), a Chartered Accountant, was recruited in 1922 to help manage the heavy workload associated with the Chartered Accountant extension program. In 1926, he and C.E. Walker co-authored Accounting Principles and Practices, which became the standard text in accounting until well into the 1950s. He was acting Director of Commerce courses during the Depression and WWII, and was appointed Director in 1951, a position he held until his retirement in 1959.
Contemporary Leaders: Outstanding professors whose research, teaching or service since 1963 have built on the foundation laid by the Founders: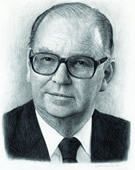 R.J. (Rich) Hand (served 1951-1989), a WWII veteran, joined Queen's as a professor of marketing and economics after graduate work at the University of Chicago. Upon becoming Dean in 1966, he was faced with the need to rapidly expand the number of faculty and course offerings to meet growing demand. Over his 10 years as Dean, the School grew significantly. He recruited scholars from leading business schools in the US and Canada, expanded Commerce and MBA enrolment, and started the PhD program.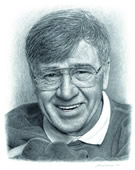 F.D. (Frank) Collom (served 1971-2000), a Queen's MBA graduate, was known and loved by thousands of Queen's students both in the School of Business and across the University, receiving numerous teaching awards, as well as major civic honours. Twice he was cited in Maclean's magazine as the most popular professor at Queen's. He was a consultant to dozens of not-for-profit organizations, refusing to take any remuneration for this work, preferring that the organizations make a donation to a local food bank or charity.
D.D. (Danny) Monieson (served 1961-1992), earned his MBA at Miami University in Ohio and his PhD in Marketing at Ohio State University. An outstanding marketing teacher and consultant, he inspired students and business leaders for more than three decades, and was twice a recipient of the Commerce Society Teaching Excellence Award. As a philosopher and historian of marketing ideas, he influenced scholars around the world. The Monieson Centre at QSB continues his quest to advance the understanding of knowledge-based enterprises.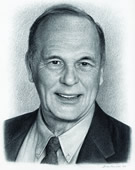 E.H. (Ted) Neave (served 1971-1999), a graduate of UBC with a PhD from the University of California, Berkeley, joined the School in 1971. A prolific researcher, his publications in finance range from purely theoretical works, to empirical articles, to public policy-oriented prescription pieces, to papers designed for lay readers. He developed and implemented simulation-based teaching modules for the Institute of Canadian Bankers that are used in more than 40 countries. He is an Honorary Fellow of the Institute of Canadian Bankers.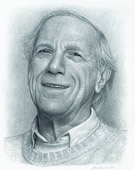 N.B. (Norman) Macintosh (served 1967-1998) is among the world's most widely known and respected accounting scholars. With publications in the top academic journals in his field, he is widely cited by his peers. He is one of only two professors to have received both research and teaching awards from the Canadian Academic Accounting Association, and the only professor to have twice won the Research Excellence Award at QSB. His books are considered classics in the field of behavioral accounting.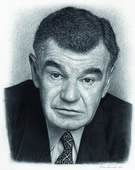 J.R.M. (John) Gordon (served 1975-2001), a Queen's MBA graduate with a PhD from MIT, joined the School in 1975. He served as Dean from 1978 to 1988, leading the creation of a strategy for the School that emphasized innovation and excellence in both teaching and research. He encouraged connections with the broader business community, including the growth of executive education programs. An outstanding case-method teacher and prolific researcher, he was a mentor and inspiration to faculty and students.

The next opportunity to nominate Founding or Contemporary Leaders into the QSB Faculty Hall of Fame will be in 2012. For information, email alumni@business.queensu.ca