Elspeth Murray new Associate Dean (MBA Programs)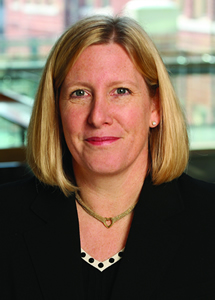 Elspeth Murray, BSc'85, MBA'87, PhD (UWO) was named Associate Dean (MBA Programs) effective July 1on the expiration of Professor Bill Blake's term that had commenced in 2003. Under Bill's guidance, QSB launched the Accelerated MBA for Business Graduates and the Cornell-Queen's Executive MBA programs, repositioned the full-time Queen's MBA away from a science and technology focus and revised the Executive MBA curriculum, among many other initiatives.

Elspeth brings strong management skills and deep experience in the School's MBA programs to this role. She has taught extensively in these programs, and led the committee that recommended the successful strategic redesign and repositioning of the full-time Queen's MBA program.

She is an Associate Professor of Strategy and New Ventures, Director of Queen's Centre for Business Venturing (QCBV) since 2004, and the CIBC Fellow in Entrepreneurship. Prior to joining Queen's in 1996, she worked in industry at Canada Systems Group, IBM and Canadian Tire, among others. Under her leadership of QCBV, the Centre initiated and runs a multi-million dollar venture capital fund, leads the development of entrepreneurship courses and competitions in the School, and conducts applied research into small- and medium-sized businesses.

As a complement to her work in the new venture field, she specializes in the management of change. In 2002, she co-authored a book, Fast Forward: Organizational Change in 100 Days, with QSB Strategy and Organization Professor Peter Richardson.