The Nineties: The Executive MBA Experience
Juggling studies, jobs and kids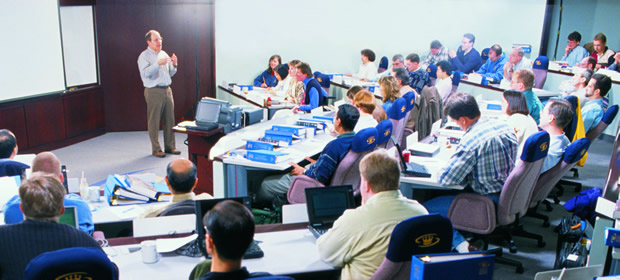 In 1992, the School welcomed the inaugural Ottawa Executive MBA class to the state-of-the-art classroom in a downtown office tower. The success of the Ottawa program prompted a quantum leap into the 1994 launch of the National Executive MBA program, delivered via a mix of videoconference and residential sessions in Kingston. The Ottawa class of 1999 numbered 46, while the national program joined 147 participants in 25 boardroom learning teams from Vancouver to Saint John, NB, and even Bermuda.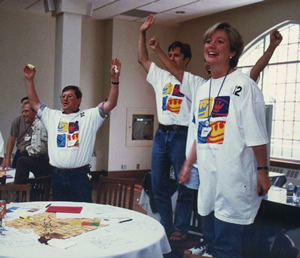 Team spirit at Ban Righ When musician Prince exhorted followers to "party like it's 1999" in his song of the same name, little did he know a bunch of mature Queen's Executive MBA students would be doing just that. Every second weekend, students with jobs, families and mortgages attended classes in their home towns. But during the three on-campus summer sessions when the group took over the Vic Hall and Chown Hall residences, they would let loose like a bunch of teenagers (well, almost). "We were the same as when we were younger, but with gold credit cards," recalls Andrea (Dods) Peckham, EMBA'99.
The residential sessions were intense, with a wealth of material to be absorbed and responsibilities from the home front to be juggled. Classroom learning was also a different experience for many, since the majority of the National program's classes were delivered via video conference every second Friday and Saturday, with boardroom learning teams connected simultaneously across the country. The Ottawa EMBA program offered a different experience; students there headed downtown to a custom-built classroom in an office tower. It was little wonder, then, that when the groups met up in Kingston, they were ready to let off some steam.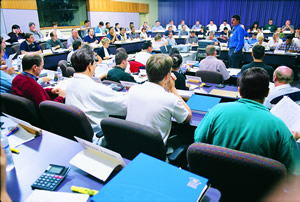 Residential session at the Donald Gordon Centre Andrea says the idea of returning to school was a bit daunting at first, especially since she would be combining her studies with her fulltime job in Toronto. "I was nervous, because I was signing up for this two-year journey, and wasn't sure how I would cope with the double workload, but Queen's did a fantastic job of supporting us." The program's team-based approach also helped students surmount the challenges of completing multiple assignments during the two weeks between classes.
"We Were The Same As When We Were Younger (Students), But With Gold Credit Cards."
Ottawa EMBA'99 alum Gayle (Heggie) Poapst was working full-time and raising two kids on her own in Merrickville, an hour from the city, when she signed up. She recalls working on her assignments and studying at home with her kids at night. "It taught them wonderful study habits. After dinner, we'd all break out the books."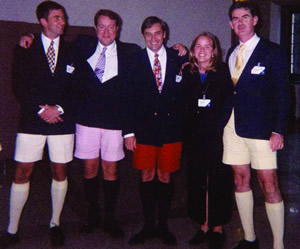 Team Bermuda Though intense, the residential sessions in Kingston were also an incredible bonding experience. "I had the residence experience I'd never had as an undergrad," Andrea recalls. "People who'd lived in residence before remarked that not a lot had changed. It was still work hard, play hard, go out for a beer, stay up until two a.m., then get up and get to class the next day. We were just older. But that's where the camaraderie came from." Adds Gayle, "We were a bunch of 40-year-olds trying to be 20-year-olds."
Despite the fact the two women attended classes in different cities, they single out some of the same professors for special mention. Both recall Prof. Dan Thornton injecting fun into his Managerial Tax class. "Tax was the driest course in the world, but he would break into song and tap dance every so often," says Gayle. "He even sang the Monty Python song, 'Always Look on the Bright Side of Life.' At one point he had the whole class up singing and dancing."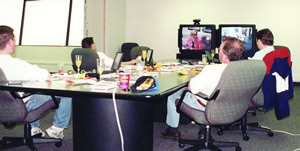 A Saturday morning class via video conference Another professor who really stood out was Julian Barling,who taught organizational behaviour. "He brought a psychological understanding of behaviour in the workplace," Gayle says, "and he taught us how job stress affects home life." Andrea remembers one Barling quote that resonated with the class: "Managing people is like holding a bird in your hand. If you press too hard you will suffocate it, but you can't let it go either."
Gayle Recalls Doing Her MBA Assignments At Home With Her Kids At Night. "It Taught Them Wonderful Study Habits."
Students were equipped with laptops that Gayle remembers were fully loaded with all the software students needed, including a program that enabled them to speak to their classmates. "We had our own little chat rooms and could talk during class," Gayle recalls. "Some people surfed the Internet during classes, but professors had a switch at the back of the classroom and could disconnect the Internet anytime."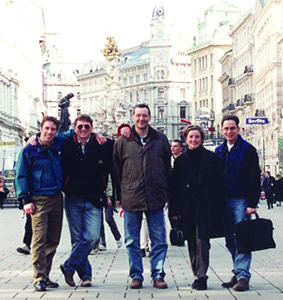 Studying in Europe One very special memory for both women was a trip to Europe that was part of the program. Gayle's group went to the Organization for Economic Co-operation and Development (OECD), NATO headquarters, Vimy Ridge and Dieppe. Destinations included Queen's International Study Centre at Herstmonceux Castle outside London, as well as Paris, Brussels and Germany. Andrea picked the eastern European trip – "exceptional," she says – travelling through Slovenia, Hungary and the Czech Republic.
In fact, the EMBA '99 group had such a memorable experience during the two-year program that they've continued getting together since graduation. They've organized several reunions on their own that included lectures in Kingston from favourite profs and, of course, time for socializing."We wanted to relive our MBA experience with no homework. We love looking back over the past ten years and appreciating what the program has meant to our lives and careers."