EMBA New Venture Competition Awards $10K Prize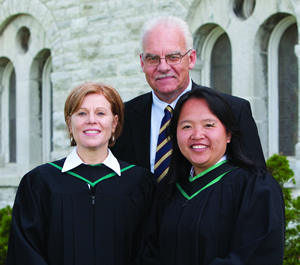 EMBA'09s Shelley Dooher (left) and Lo Chiang Cheng are pictured at Convocation with Ottawa Executive MBA Program Director John Moore. The pair placed first in the New Venture Competition that was open to members of the Queen's EMBA and Cornell-Queen's EMBA programs. Their winning venture is now up and running, thanks in part to the $10,000 prize awarded by judges from the Kingston business community and sponsored by the Queen's Centre for Business Venturing.

Their company, called School Ready Supplies, specializes in producing pre-packaged school supplies for elementary school students and for use by student councils for fundraising.