The cannabis lawyer will see you now
When companies have questions about Canada's marijuana laws and regulations, they know exactly who to call: Trina Fraser.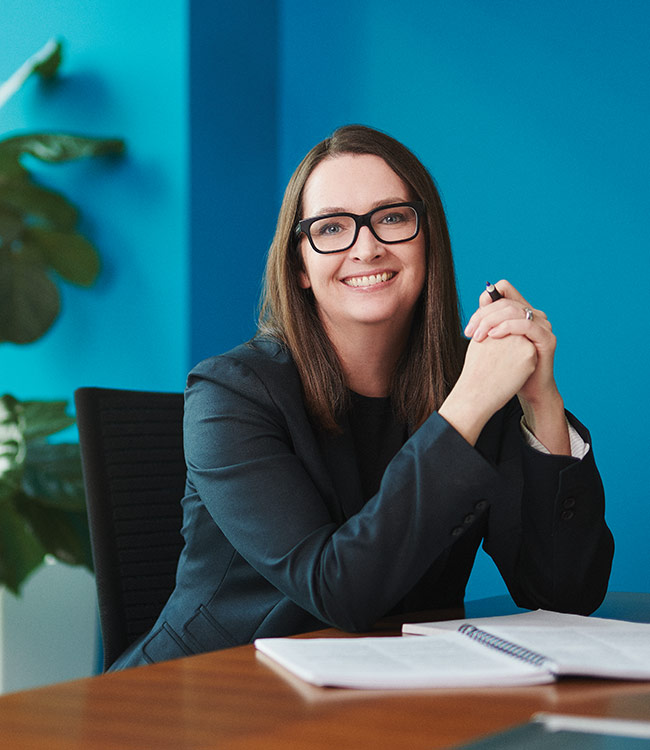 Trina Fraser, BCom'94, Law'97, knew almost nothing about Canada's medical marijuana laws when she unknowingly started down the path of becoming one of the country's top cannabis lawyers. It was the fall of 2013 and Fraser's cousin asked her to watch a documentary called Weed on CNN. It profiled a young Colorado girl, Charlotte Figi, who suffered from Dravet syndrome – a rare form of intractable epilepsy, meaning that medicine doesn't control seizures.
The story told of Figi's remarkable improvement taking a high-CBD/low-THC form of cannabis oil (known commercially as Charlotte's Web). "My cousin's son also has Dravet syndrome. They had gone through all the traditional anti-epileptic medications. And, of course, they didn't work very well," says Fraser, partner at Brazeau Seller Law in Ottawa. "The neurologist was at the point where she was recommending really upping the dosage of medicine. However, as the documentary showed, a high dosage will help suppress seizures but basically puts these kids in a catatonic state."   
Figi's story offered a ray of hope for the family. To help, Fraser dove headfirst into learning about medical marijuana laws. She discovered that federal regulations were to take effect, in April 2014, giving licences to private companies to commercially grow and sell medical cannabis. She vowed to keep her ear to the ground and find out if anyone planned to grow Charlotte's Web, or something similar, in Canada.
Then her law firm's phone started ringing.
Clients and referrals suddenly wanted in on this burgeoning industry. They were looking for help with things like due diligence on investing in medical cannabis companies or advice starting a business that was aiming for a medical cannabis licence. "My partners would say 'Oh, you should talk to Trina. I think she knows something about that,' " Fraser recalls.  
Up until then, Fraser had worked mostly in business law – contracts, licensing, leasing and joint-venture agreements in a wide range of industries. "I thought, 'this is great, but [the cannabis industry] is very unique, special and exciting. I want to be a part of it.' "
She spent the next year building a cannabis practice. "I sat down with my partners and said, I think there's an opportunity to be at the forefront of something new," Fraser explains. All her research showed that regulations and laws around cannabis were complicated, and she foresaw the need for lawyers with specialized knowledge.
Fast-forward to today: both medical and recreational marijuana are legal in Canada, and Fraser is head of Brazeau Seller's four-person CannaLaw group and one of Canada's most prominent cannabis lawyers. While cannabis law may seem like a niche area, her work is broad. It encompasses trademarks, leasing, intellectual property licensing, incorporation, shareholder agreements and more. "There are regulatory issues that come up. If you don't work in this space, you might miss something important," she says. 
Call of the law
Fraser grew up in Renfrew, Ont., a small town about an hour west of Ottawa. Her dad was a civil engineering technologist who worked for the town; her mom was an elementary school principal. "She was all about education and my dad was all about building stuff, so they were very hands-on people," says Fraser. 
Though she didn't set out to become a lawyer, Fraser says she always envisioned going to Queen's University. "I just thought of it as an incredibly prestigious school," she says. She enrolled in the Commerce program, figuring to eventually work in finance, marketing or accounting. But in her third year, she took an introduction to business law course and instantly found her calling. "I said, 'Yes, this is what I want to do with my life.' " After earning her Commerce degree in 1994, Fraser enrolled in Queen's law. Upon graduation, she headed to Ottawa to practise.
Fraser says she was a bit concerned about what her parents would think about her move into cannabis law. But it wasn't an issue. "My parents, as with many people I know, were forced to re-evaluate their own stereotypes and notions about cannabis. When you grow up with the Reefer Madness mentality around you, it's easy to believe that cannabis is bad," she says. "But when someone you care about is actually using this plant in a way that is having tangible, positive benefits on their health and their ability to live their life, you're forced to re-examine that and to think about it in a more fact-based way." 
Not only did Fraser help smash the cannabis stereotype in her family, she also tried to get Canadian politicians to change their minds about people who participate and work in the illicit cannabis industry. In 2017, Fraser appeared before the Standing Committee on Health for Bill C-45 (The Cannabis Act, which legalized recreational cannabis). She argued that if the federal government was serious about displacing the illegal marijuana market with legal weed, it would have to allow black-market participants to work in the legal cannabis trade. 
Rather than barring anyone who previously sold cannabis from being security-cleared under the Cannabis Act, Fraser recommended taking a more practical approach to analyze people's prior conduct to assess whether they would be a risk. "I was trying to bring a bit of humanity to this notion of the 'illicit' market – that it's not this group of motorcycle-riding criminals," she says. "I think everybody had this kind of stereotype in their heads. But these are families with kids who go to church and pay taxes and live otherwise normal, very normal, very law-abiding lives. That's who we're talking about."
Though she can't say for sure if her comments had anything to do with it, the doors are now open for convicted pot offenders. Health Canada's June 2018 criteria for obtaining security clearance does not permit refusals based on previous convictions for simple possession of cannabis. People with prior trafficking and production convictions can still be refused but are considered on a case-by-case basis.
Fraser is now also a prolific Twitter user, sharing cannabis industry news and links to articles with her 15,000 followers. "I figure if I'm spending all this time sifting through articles and press releases, I might as well curate it and share what I think is relevant and important," she says. The social media channel has become an important tool to build her cannabis practice. "That's really where a lot of discussions and networking is happening in this industry – it's on Twitter," she says. 
With her cannabis practice in full swing, Fraser has picked up impressive accolades. In 2018, Financial Post placed her on its "Cannabis Power List"; she was named "Attorney of the Year" at the 2019 O'Cannabiz Industry Awards Gala; she was named by Canadian Lawyer magazine as one of the country's Top 25 most influential lawyers in Canada in 2019; and she was chosen by her peers for "Best Lawyers in Canada 2020" in the field of cannabis law. 
Tim Wilbur, editor-in-chief at Canadian Lawyer magazine, says that while there are many lawyers in Canada who call themselves cannabis experts, few deserve the title more than Fraser. "Her advocacy work had a significant impact on the development and implementation of cannabis legalization in Canada and she has represented licensed cannabis cultivators, processors, medical sellers, adult-use retailers and ancillary cannabis industry service providers," says Wilbur. 
As for what's next in the field of cannabis law, Fraser sees several years of growing pains ahead. Regulations will continue to evolve along with new developments in the market. These include new product launches, like edibles, and the upcoming retail expansion of cannabis in Ontario. "I used to always say, 'oh, once this happens then things will slow down. And once this happens then things will kind of calm down,' " she says. "I've stopped predicting that because there's always something new."