As told to Julia Lefebvre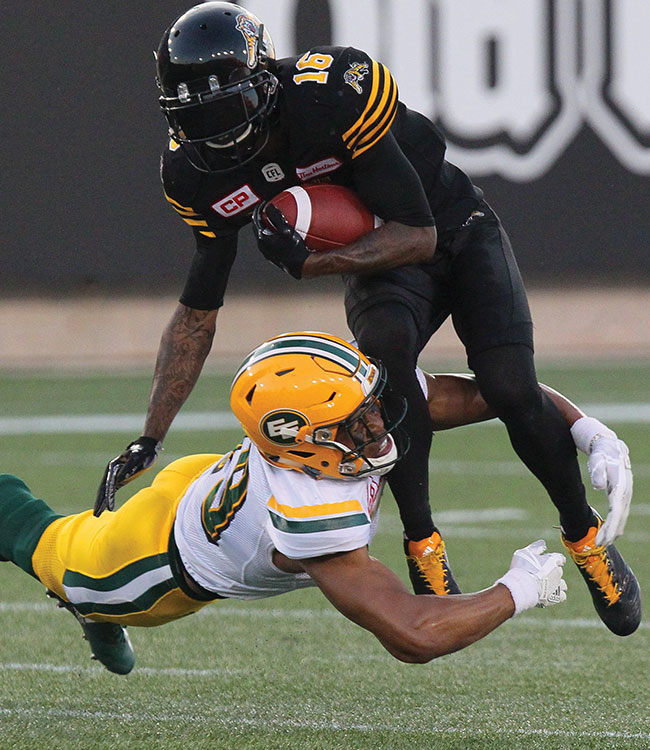 After a career spent stopping passes and tackling receivers in the Canadian Football League, Andrew Lue, MBA'20, Artsci'14, is now turning his competitive spirit to corporate consulting. In 2014, Lue was drafted 10th overall into the CFL, in which he played for five years. Here, he talks about his time on the gridiron, his involvement in concussion prevention, and how football prepared him to do his MBA.
I was born in Kingston, Jamaica. When I was three, my family moved to Ontario – first to Scarborough and then to Markham. I grew up playing football and basketball. I was always competing.
After my Bachelor of Science at Queen's, and playing for the Gaels, I was drafted into the CFL. I spent three years with the Montreal Alouettes, did a stint with the Saskatchewan Roughriders, played a year with the Edmonton Eskimos, and finished my career with the Ottawa Redblacks.
I played defensive back for most of my career and finished as a linebacker. Both positions are a mix of covering potential pass catchers and tackling any ball carriers. My main job was to prevent the other team's receivers from catching the ball – without actually touching them since that would be a penalty for our team. If they did catch the ball, I had to take them down as fast as I could.
Before going pro, I told myself to enjoy and appreciate the opportunity in front of me. Fast-forward to my first home game with Montreal: The Alouettes have a unique pregame team entrance, taking a path through the stadium corridors toward the field. That first walk through thousands of fans was surreal. It was like being in a mosh pit of screaming supporters, without anyone actually touching you, save for a few high fives. Cue the signal and smoke machines… and we sprinted out of the darkness of the holding tunnel, into the light and onto the field. The stadium erupted.

Player turnover is a constant in professional sports. I was always meeting new teammates – and in some cases, housemates – with whom I had to quickly develop a rapport. Being comfortable managing uncertainty and working with a diverse group of people was a huge advantage for me during my MBA – especially given Smith's team-based approach.

While still in the CFL I started working as a project director with Concussion Legacy Foundation Canada, an organization committed to solving the concussion crisis in sport. One of my proudest achievements was the passing of Ontario's concussion safety bill, Rowan's Law, in March 2018. It's named in memory of 17-year-old Rowan Stringer, who died from a concussion injury [her second in less than a week] in a high school rugby game in 2013. The law is designed to protect amateur athletes and educate coaches about the dangers of head injuries.

Pro sports can be very unforgiving when things aren't going your way. That's the nature of sport: react quickly without losing your cool and find a way to bounce back. Football and Smith taught me how to assess new situations confidently. Now that I've completed my MBA, I have an amazing opportunity to enter the field of management consulting. Whatever role I hold in five years, I see myself leading people, building relationships and creating a positive impact.