Lights, camera, analytics!
Can movie theatres still matter in the age of Netflix? Yes, with help from big data and some tasty deals on snacks, finds new research by Professor Ricard Gil.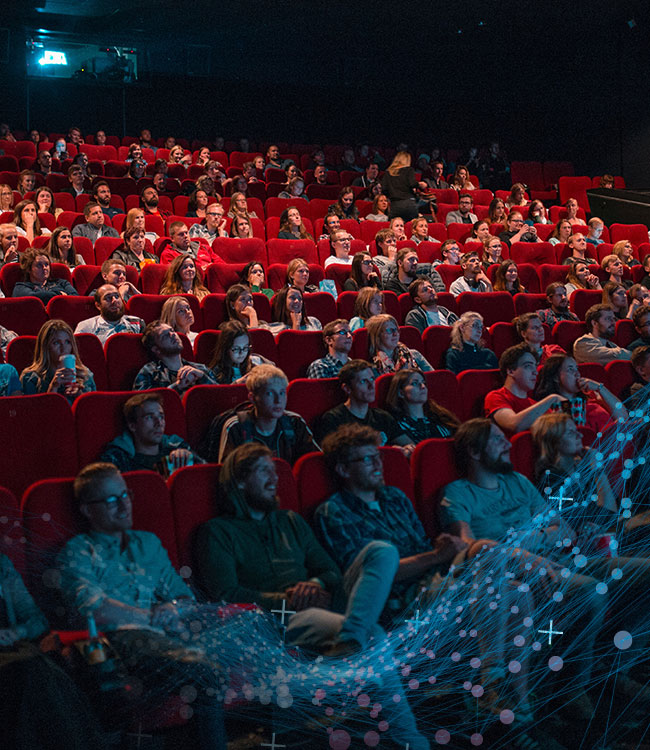 Movie cinemas have entertained us and shaped our culture for the past century. Even in the digital age there remains something special about the immersive experience they offer: the big sounds, massive screens, responsive crowds and guilty pleasures at the concession counter. But the rapid ascension of digital on-demand and subscription services – including Netflix, Amazon Prime Video and Disney Plus – raises questions about the future of cinemas. Will they become niche venues, or can they find ways to provide greater value to their audiences?
Although North American box-office sales have enjoyed a steady climb during the digital era, movie-theatre admissions in 2019 were near their lowest level in 25 years. Some of the most celebrated films of the past year have reached audiences primarily through streaming services rather than movie-theatre distribution. On Netflix, these have included Martin Scorsese's The Irishman, Michael Bay's 6 Underground, Noah Baumbach's Marriage Story and Alfonso Cuarón's Roma. The benefits of this new delivery model include achieving instant global reach at a fraction of the traditional distribution cost. 
How can movie houses compete? A paper co-written by Ricard Gil, Distinguished Faculty Fellow of Business Economics at Smith, outlines strategies and steps movie-theatre companies can take to remain viable. 
"Theatres won't disappear, but they risk losing their status as the prime distributor of popular film," Gil says. "Everybody knows the new digital-platform companies are using big-data technologies. So, why aren't movie theatres doing the same thing?"
To fend off video-on-demand and internet subscription platforms, the movie-theatre industry will need to employ more data-driven decision-making. This will require analyzing large amounts of customer information, collected through sales and loyalty programs, to improve capacity utilization and to customize the movie-going experience based on consumer preferences.
To date, movie-theatre companies have differentiated themselves by investing in their facilities, adding more screens, improving seating and offering a greater variety of food and drinks.
But more innovation will be needed as they try to hold on to the exclusivity periods for showing new films. Gil and his co-researchers note that in the past 20 years this "protected window" has declined from an average of 24.7 weeks in 1998 to 14.4 weeks in 2017. More recently, audiences have seen the simultaneous release of some movies in both theatres and on premium digital platforms by some distributors.
"It does seem like theatres are leaving a lot of money on the table," Professor Gil says.
Field of screens
The paper, titled "Technological Change and Managerial Challenges in the Movie Theater Industry", was published in the Journal of Cultural Economics. It gives an account of changes in the movie-exhibition business over the last century, examines the nature of competition in the industry, and identifies new strategies for theatre owners to increase their value proposition.
Gil and his co-researchers collected international data, including ticket sales and screening information from a major theatre chain in Latin America, and transaction details of more than 39,000 loyalty card holders at a European cinema chain between 2014 and 2018. This second batch of data included age, gender, ticket purchase history and concession stand purchases.
In this treasure trove the researchers discovered a few surprises. When it comes to movie snacks, for instance, men and women tend to buy the same amount – and more than half of all items bought are popcorn, nachos and soft drinks (with extra servings of butter and cheese especially popular).
But there is huge variation in demand among customers for concession items. Some moviegoers buy snacks with every visit; some indulge occasionally; others never do. By analyzing the data effectively, cinema companies might be able to "nudge" certain groups of consumers into concession purchases with a pre-ordered, ticket-and-food-bundle offer, the report notes. 
Gil and his colleagues also parsed the data to gain new insights into theatre owners' frustrating problem of underutilized capacity.
"They're choosing the wrong mix of movies," Gil says. "Certain movies do better than others. They have the data. It's easy to collect. It's nothing crazy. We're just saying look at the patterns."
After analyzing the data, the researchers concluded that the movie theatres they studied would fill more seats if they matched films to local market preferences, invested in VIP screening rooms and even reduced operating hours.
Close encounters of the third kind
As a researcher, Ricard Gil studies competition. He's written several papers on various competitive aspects of the airline industry, for example. Cinemas have also held starring roles in his research. In one study, he examined the competitive environment of the movie business in Spain – where Gil grew up and where, unlike in North America, film studios also own theatres, in which they play their own movies and those of other studios. Two other papers of his examined the impact of racial segregation on various aspects of the movie-theatre business in the United States in the 1940s and 1950s.
Gil is a movie fan and notes that this is not the first time theatres have faced new-technology competitors. The first time came in the early 1950s with the arrival of television. A second happened in the 1970s and '80s when VCRs took off and cable TV expanded. Both times, movie theatres found ways to entice customers. They improved sound and screen quality, installed more comfy seats and added more indoor screens.
The latest rivals are a step ahead though. Netflix and Amazon Prime use data analysis to match their products with customer preferences. In fact, they use the intelligence to help people select their next show to watch. The movie-theatre business needs to respond by analyzing habits so it can tailor the quality and timing of the cinema experience to meet its customers' preferences, the report notes.
"It does seem like theatres are leaving a lot of money on the table," Gil says. "Some are really big, and they are storing information. They have the ability to use big data to their advantage, but they are not doing so in effective ways."
Movie houses can also capitalize on a unique aspect of the cinema experience. That is, going to the movies tends to be a fun, social outing. Few people go to the movies alone. "Therefore, theatre management should pay particular attention to enhancing the cinema experience for couples, families and groups of friends," the report notes.
Even in the new technological age, there remains something special about going out and catching a movie. The researchers agree that the movie-theatre industry is not about to disappear. But to maintain their allure as the prime distributor of film and a favourite go-to entertainment venue, movie theatres are going to have to start using the big data available to them – such as customer purchasing details and traffic patterns – to understand their market better.
"They already have the technology, they're already storing the data. Now they should start mining it and looking deeper. We're not asking them to be mavericks. We're saying catch up with what others are doing," Gil says.

The study discussed in this article was conducted by: Charles B. Weinberg, (Sauder), Cord Otten, (University of Hamburg), Barak Orbach, (University of Arizona), Jordi McKenzie, (Macquarie University), Ricard Gil, (Smith), Darlene C. Chisholm (Suffolk University) and Suman Basuroy (University of Texas).