New-venture competition awards businesses on their way up.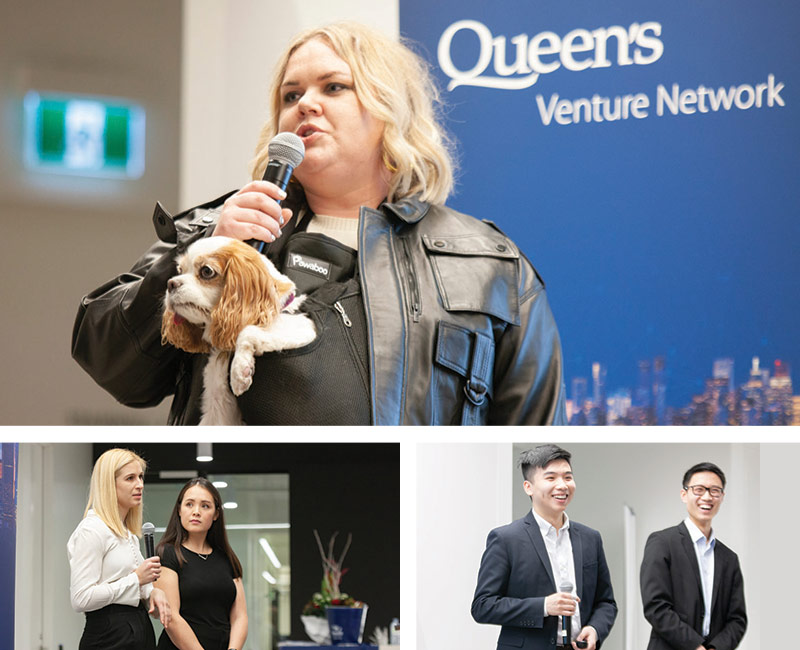 The fourth annual UPstart Venture Challenge in December saw eight teams pitch their startups to a panel of Smith and Queen's alumni in the hopes of winning a share of the $55,000 prize. 
As always, the competition was exciting. Teams had just four minutes to make their case, followed by six minutes to field questions from a panel of judges. The judges were free to divide the prize money among as many teams as they wished. In past years, several teams were awarded, while in others a single team won the entire pot. This year, three teams got a share:
Pawzy, an online pet platform connecting "modern pet parents" to one another as well as to relevant resources and services. It was founded by Kerri-Lynn McAllister, BCom'07, and was awarded the top prize of $30,000.
The Gist, a sports news and media company created by women for women. Its founders are Jacie deHoop, BCom'14, Ellen Hyslop, BCom'14, and Roslyn McLarty, BCom'14, GDA'14. They received $15,000.
Forvera Health, a mobile vision-care marketplace. The venture was started by Newton Zheng, BCom'19, and Jonathan Ge and won $10,000.
Kick-starting sales
Pawzy's McAllister said the win provides "a big head start" in her company's growth plans. Pawzy is preparing to raise money from angel investors, and McAllister said that "we plan to use the combined funding to engineer our vet clinic finder, launch in select cities across North America and kick-start marketing and sales."
UPstart is organized by Queen's Venture Network, an initiative of the Smith Centre for Business Venturing. This year's event was held at LoyaltyOne in Toronto. The judges were: Lisa Orr, BCom'01, AMBA'16, founder of LaBroga and Orr Etiquette; John See, Artsci'79, MBA'81, special advisor, strategy and associate coach, Teal & Co; Peter Willson, Sc'92, chairman and CEO of Willson International; and Rachel Zimmer, BCom'10, VP, global customer engagement at SGS & Co.