Awarding faculty excellence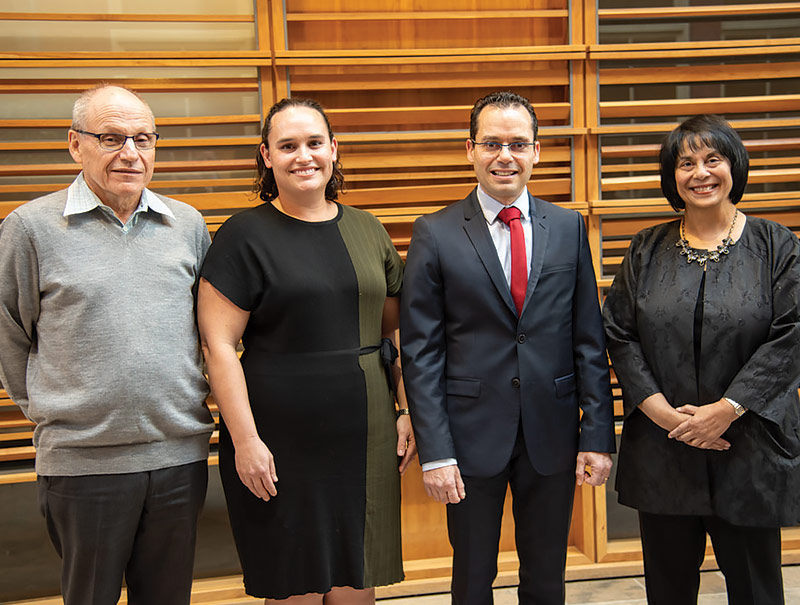 Four professors were recently recognized at Smith for their research work, teaching and supervision. They are: Tina Dacin, Shamel Addas, Tandy Thomas, BCom'03, MSc'04, and Julian Barling.
Dacin, the Stephen J.R. Smith Chair of Strategy & Organizational Behaviour, won the school's 2019 Award for Research Excellence. Her research interests include cultural heritage and traditions, community resilience, social innovation and entrepreneurship. "I've had amazing collaborative opportunities," Dacin said, adding that at Smith she is given "the luxury to study topics that are really meaningful to me."
Addas, Distinguished Faculty Fellow of Management Information Systems, received the New Researcher Achievement Award. He joined the faculty in 2016 and his research examines the mixed effects of information technology on people at work and in healthcare. "I am especially interested in how IT use is related to attention allocation and the subsequent effects on performance," he said. 
Training the next generation
Barling and Thomas were acknowledged for their work with students in the PhD and MSc programs.
Thomas, Distinguished Faculty Fellow of Marketing, won the Teaching Excellence Award. In accepting the prize during an event at Goodes Hall in November, she recalled her own experience as a graduate student at Smith and learning from "some of the very best professors."
In particular, Thomas cited her MSc supervisor, Jay Handelman, associate professor and associate dean of faculty at Smith. "As a student, I remember going to Jay's class and being incredibly impressed by how well prepared he was," she said. "It's a privilege for me to train the next generation of scholars, and it's important for me that I do it well."
The Research Supervision Award is given to a deserving faculty member who has supervised Smith PhD or MSc students for at least three years during the last five-year period. Barling, who is the Borden Chair of Leadership, thanked his graduate students, who he said "challenge and inspire me. To work with such talented, motivated and wonderful young people is a gift."