Caroline Pollock, MBA'19, on her journey from the military to earning her MBA.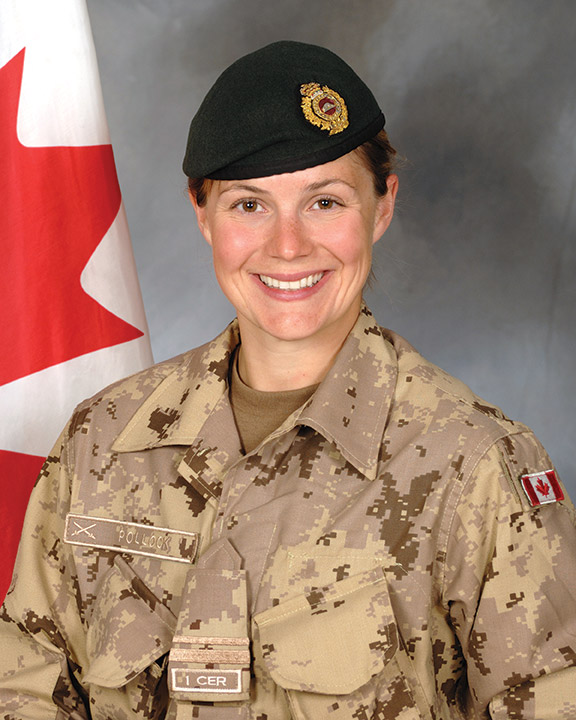 C​aroline Pollock, MBA'19, knows how to dispose of a bomb. It's something that the engineer from Calgary learned during a nearly 16-year Canadian Armed Forces career that included a tour in Afghanistan. Two years ago, she started to think about what she might do after the military. She decided to get her MBA. Here, Pollock talks about the army, Afghanistan and how her MBA led to her next move.
I knew since high school that I wanted to study engineering. My grandfather was an engineer so I think that influenced me. I heard what army engineers do, and that really attracted me. I liked the idea of working abroad and outside a lot. I joined the military as an officer cadet in 2002 and went to Dalhousie University for industrial engineering. At the end of my core military training, I specialized in explosive ordinance disposal, basically the bomb squad.
I deployed to Afghanistan in October 2009. I was part of the Explosive Ordinance Disposal Troop in Kandahar. I was the troop commander for the guys who deal with roadside bombs, which the insurgents were putting out to hurt not just Canadian soldiers but also those in the coalition and civilians. They had different types of improvised explosive devices that would attack you through different means, and we would try to counter those with our own tactics and equipment. And then, of course, they would try to counter our counteractions.
We trained our counterparts in the Afghan National Army on explosive ordinance disposal. We didn't speak the same language and used translators, but there was a lot of positivity there. They wanted to see a better Afghanistan and cared about becoming experts in their field. By the time our tour ended, they were operating independently and going out on calls in support of their own army. 
I'd been thinking for a while about getting my MBA. By 2017, I knew I wanted to move into a civilian career. I felt an MBA would help translate my military expertise into the business world. Business and the military use similar concepts but the language can be different, and I wanted to learn more about these concepts. My last day with the military was January 10, 2018; a few days later, the MBA program began. 
The best part of my MBA was the connections. I learned so much from my peers. Being able to work with people from different cultures, business backgrounds and educational backgrounds was amazing. The program reminded me a lot of some of the training in the military – high pressure and short timelines. You've got to work as a team and figure it out together. I definitely felt that esprit de corps and my team really jelled. We won the David D. Monieson award as MBA team of the year. Our classmates voted us to win it.
I'm a mom of two; my son is six and my daughter is four. My husband is in the military, and last summer, while I was doing my MBA, he was posted to Base Gagetown in New Brunswick. I had to start to think of what job I could get in New Brunswick. Fortunately, I had a Smith connection already: One of my classmates is from New Brunswick, and a former colleague of hers works at Opportunities New Brunswick. I had a conversation, put in my resumé and was hired.
Opportunities New Brunswick is the lead economic development agency for the province. We work to attract investment to New Brunswick and to support businesses – from startups to established homegrown companies. We also have a workforce strategy team, which focuses on attracting talent for newly created jobs. I work in strategy and implementation. I get to apply my military experience and MBA education every day. I really enjoy these aspects of business. I think it's the engineer in me, I like to plan and fix things. 
In this issue
Inside Smith
Features
Profiles
Dean's Message
Alumni News
Parting Shot
First Person