RBC Scholarship winner scores $5,000 and a once-in-a-lifetime learning experience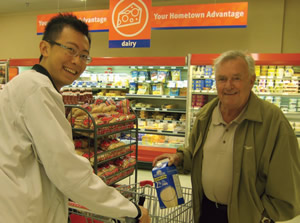 Commerce student David Wen was selected as the Gold Business Winner of the RBC Royal Bank Scholarship for Undergraduates in 2007, but his story had to wait until he collected the full prize. In addition to receiving $5,000 to assist with tuition and school expenses, David was given the opportunity to choose one of three 'once-in-a-lifetime' personal experiences. He chose to spend a day with Ron Joyce, co-founder of Tim Hortons and a former Entrepreneur of the Year. That day finally came in August of this year, when David was whisked away aboard a private jet to Ron's home at Fox Harb'r in Wallace, NS.

It was a fitting experience for a budding entrepreneur whose chosen career blends philanthropy with entrepreneurship. David has developed a web-based organization, SolaCaritas.com, that, as he describes it, "will benefit charities, companies, and communities across Canada by making donating, volunteering, and general philanthropy easy." Visitors to this site can learn about charities, their mission, events and volunteer opportunities. Donors can make contributions to charities through purchases from companies who not only participate in the site, but also use it to communicate their own philanthropic goals. It was this initiative that won David the scholarship that recognizes community involvement and demonstrates creative and practical ideas for innovation and improvement in the fields of business, science or visual arts.

His memorable day began with a tour of Fox Harb'r Golf Resort and Spa, a luxury golf course and full service resort owned by Ron Joyce. Their insider tour took them from the spa to the skeet field, from the private air strip to the pro shop. While the weather didn't cooperate to allow a planned round of golf, David was able to spend a 'typical day' with Ron, meeting some of his relatives, stocking up on supplies at the local grocery store, then dining on Ron's yacht. While the entire day was unforgettable, a highlight was simply hearing Ron's stories of his early days and entrepreneurial exploits, David reports. "Dinner with Ron and his guests left me yearning for more anecdotal gems. It was like how the tiny morsels of exquisite food I was served by Ron's private chef made me yearn for the next part of the meal."
In this issue
Inside Smith
Features
Editor's Note
Dean's Message
Profiles
In Memoriam