Helping Canadians Borrow 'Well'
Eva Wong, BCom'00, tackles consumer debt as co-founder of fintech startup Borrowell.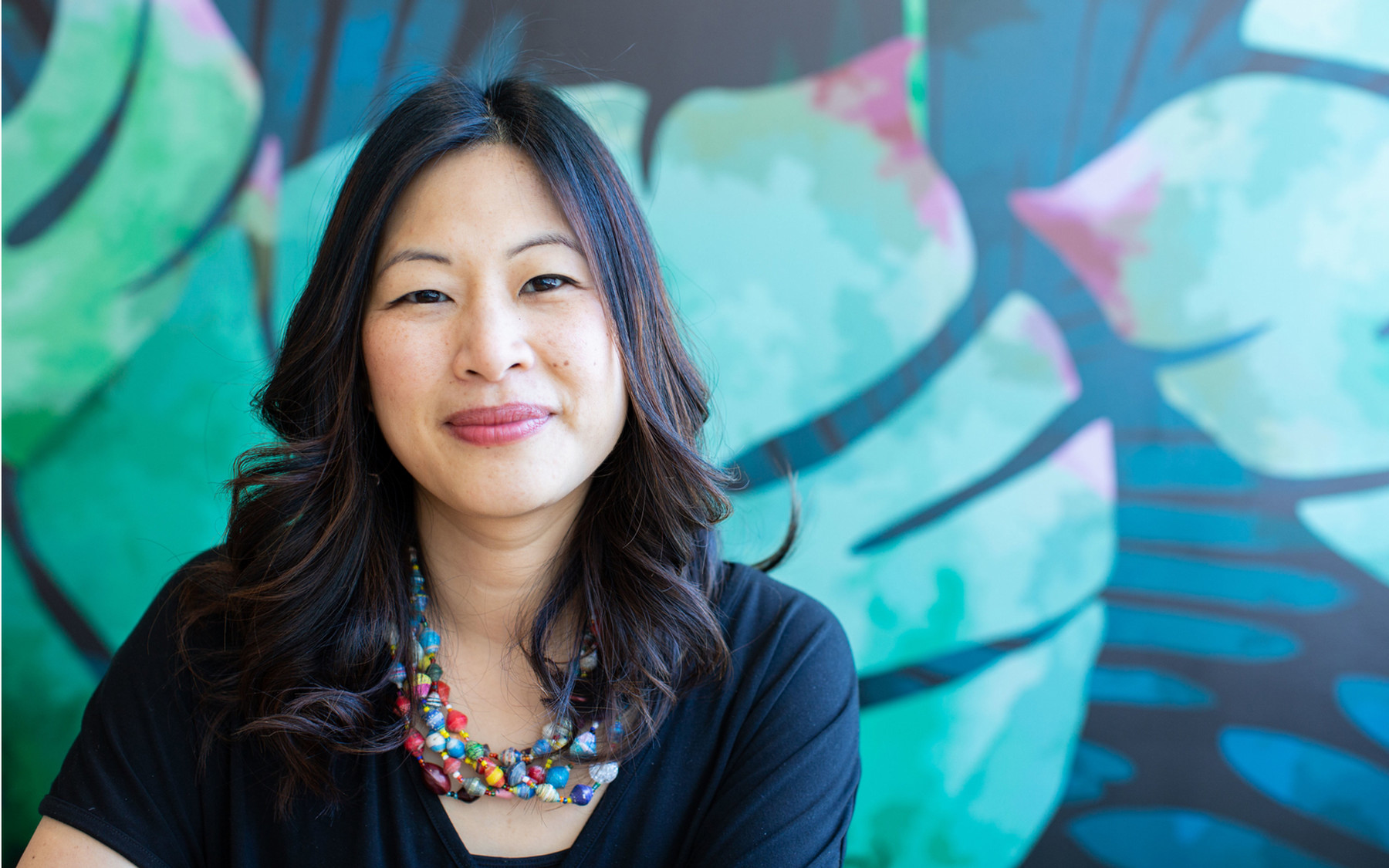 Eva Wong doesn't have the technical background or entrepreneurial experience that one might expect of a fintech startup founder. Eva (pictured right) had never started a business before she launched the Toronto-based credit education company Borrowell, with co-founder Andrew Graham. Her only experience in financial services was a stint at CIBC while doing her undergraduate degree at Smith. What she did have was a track record of taking on new challenges and learning quickly.
Eva went to high school in Whitby, Ont., a suburb of Toronto. Upon graduation she wasn't entirely sure what career to pursue. But her interest in math and economics led her to business. "In case I didn't like Commerce, I knew Queen's was pretty good at almost everything," Eva recalls. She ended up loving the Commerce program and developed an interest in consulting. After her final year, she went to work as an analyst at Oliver Wyman.
Since then, Eva's career path has been anything but linear. She's worked in Canada and in Africa, Asia, Europe and Latin America. She returned to school for her master's. She's held a variety of roles — some consultant, some not — with organizations including Emmanuel International Canada, the United Nations Development Programme, Maple Leaf Foods, the OTF Group, The Meeting House, and, since
2014, Borrowell.
Borrowell is a credit education company that offers Canadians free credit scores and reports, as well as loan, credit-card and mortgage recommendations. We recently caught up with Eva to discuss how she came to be a leader at a Canadian fintech company named an emerging star on KPMG's 2017 "Global Fintech 100", and a company to watch in Deloitte's most recent "Technology Fast 50".
You've had a varied career path. What experiences have guided your career decisions?
I think saying I've had a 'varied career path' is a really nice way of saying I've jumped around a lot! But the three things that have been consistent are that I wanted to learn as much as I could, work with great people, and do work that mattered. What doing work that mattered has meant to me lately is that it does some good in the world and has some social value.
How do you and co-founder Andrew Graham know each other?
We met through a volunteer initiative that we started together, called Toronto Homecoming. We both had the experience of going abroad and then moving back to Canada. We recognized that, unless you had really kept up your networks here, it can be difficult to find a job. Toronto Homecoming (initially a conference and now an online community that connects Canadians working abroad with professionals who have returned and are working in Toronto) was a way to solve a problem that we both experienced.
We also recognized that if there was something we could do to help the Toronto region from a city-building perspective, it would be to recruit talent. The low-hanging fruit would be Canadians who have gone abroad and done these amazing things and wanted to bring those skills back to Toronto.
Where did the idea for Borrowell come from?
It was Andrew who came up with the concept. He was working at PC Financial and saw an opportunity for a consumer finance-type product outside of the banks. He was sort of looking around the world and seeing all the great fintech ideas that were popping up and wanted to do something in fintech in Canada. 
How did you join the company?
I offered to volunteer for a couple of weeks. I wanted to see what it was like, because it was totally different from anything I'd done before. I wanted to make sure I enjoyed it and that I could add value. I hadn't had any startup experience before, so volunteering was a good test. Andrew is a good friend, so I was certainly happy to help out, and I ended up staying on after the two weeks! 
What products and services does Borrowell provide?
Our mission is to help Canadians make better decisions about credit. We just felt like there was a real lack of transparency, a lack of information, and people were making suboptimal decisions around their personal finances as evidenced by the amount of credit-card debt carried by Canadians. 
In June of 2016, we became the first company to give credit scores out for free, no strings attached. From that score, we can make product recommendations. Our products fall into two categories, one being our own products — currently a personal loan we provide and charge a fee for — and the other being products from outside companies, who pay us a referral fee. Today, we recommend loans, mortgages, credit cards, insurance, and savings and investing products to our members.
Canada still has a consumer debt problem; people are still putting purchases on credit cards and not paying them off when there are better options. We think credit cards are great for making transactions. But if you want to borrow, you should get a personal loan with an interest rate that makes sense for your credit profile. It's about the right product for the right person at the right time.
What was it about Borrowell that caught your interest?
I was super-excited about the overall mission. I think it really fits in with my overall theme of using business skills to provide some sort of societal good. To me, it was a big problem that didn't have much of a solution.
How were you able to make the career pivot to fintech?
I think it was due to the different experiences I had. Starting in consulting and going forward, I had always sort of done things that I didn't know how to do before, so I feel like the skill that I built was the ability to figure things out and problem solve. In consulting, every project I did was in a different industry, city and, often, in a different country.
You've received quite a few accolades — being named to Innovate Finance's 2017 'Women in FinTech Powerlist', a finalist in the 'Fintech Woman of the Year' category of Lendlt Fintech's 2017 industry awards, for example. Does that put extra pressure on you?
It's really a testament to what Borrowell has done. It speaks to the team and what we've been able to build, and the fact that, as a co-founder, I get more than my fair share of the credit for that. It also speaks to the fact that there needs to be more female founders, especially in fintech, who are getting the funding to be able to grow and scale. 
Another reason it's important is that, for a lot of people, it's hard 'to be it if you don't see it,' and so I'm happy to be out there as someone who doesn't have a technical background, who had never been at a startup before, and who doesn't have a stereotypical background of someone that people think of when they think of a startup, just to show that it can be done. ▪
In this issue
Alumni News
Inside Smith
Profiles
Dean's Message
Features
Parting Shot