Rahim Lalani, BCom'11, tells how first-year Commerce inspired him to visit the far ends of the Earth.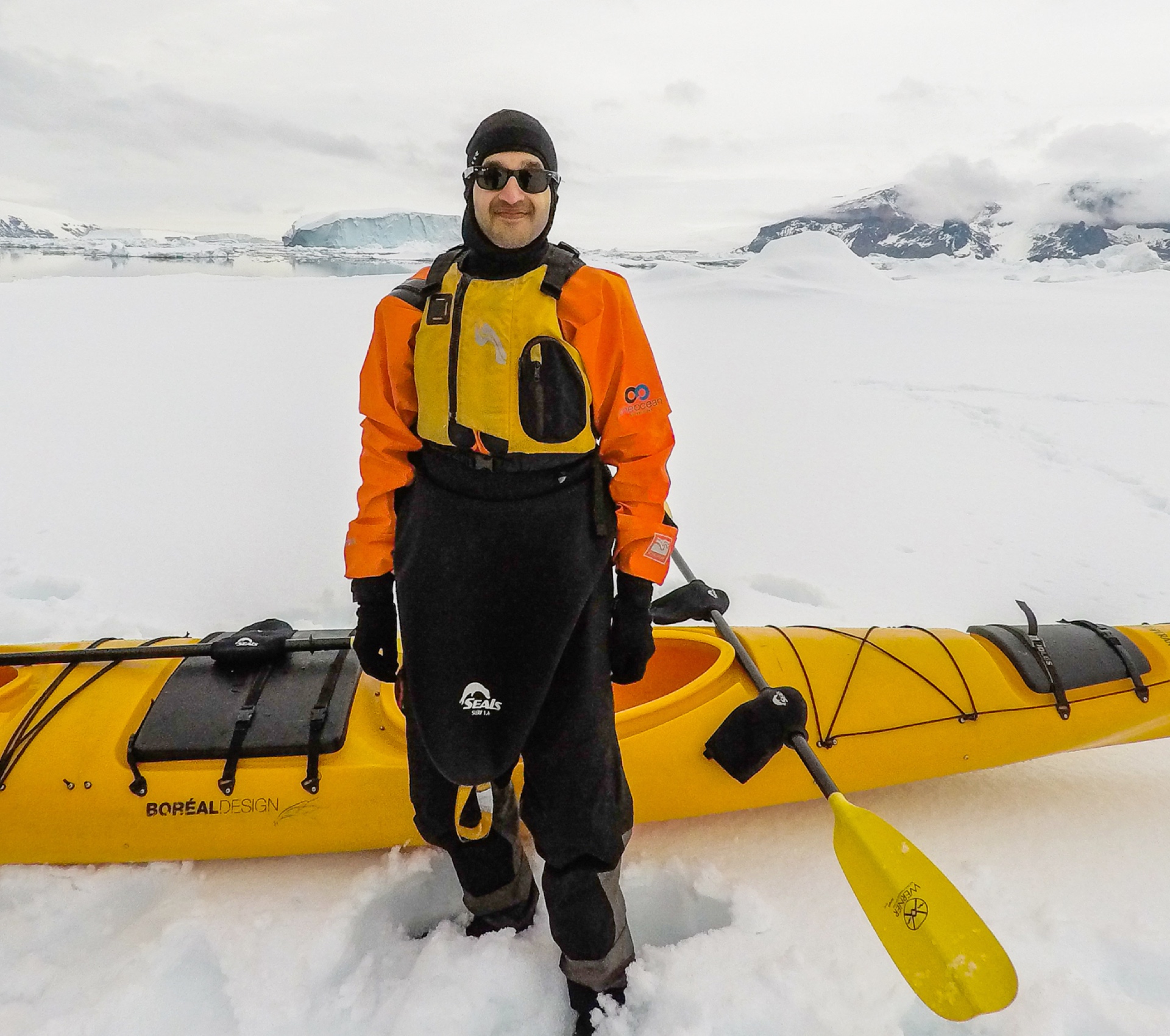 This past January I found myself at the end of the world — Antarctica — a place filled with rich wildlife, raw beauty and daily sensory overload. It was the adventure of a lifetime. I got up close to penguins, witnessed icebergs calving and kayaked alongside Minke whales. I also piqued the interest of a rather large fur seal. If you ever meet an Antarctic fur seal, take heed! They may be big — over 400 pounds — but they're surprisingly quick and unafraid to defend their territory. 
Taking my first step onto Antarctica's rocky edge, I thought back to my days in Commerce. My trip here was conceptualized at Queen's, in Greg Libitz's Comm 103 class. One day, Professor Libitz explained how great companies create an environment of innovation by developing long-term goals that at first appear unreachable. They're called "Big Hairy Audacious Goals."
The concept of big hairy audacious goals was popularized in the 1994 book Built to Last. BHAGs are bold messages meant to inspire people to achieve a seemingly impossible mission. Perhaps the best BHAG ever was John F. Kennedy's pronouncement, in 1961, that America should put a man on the moon. Other famous BHAGs are Microsoft's goal to put "a computer on every desk in every home" and SpaceX's to enable human exploration and settlement of Mars.
As Professor Libitz spoke, I wondered: If corporations can have BHAGs, why can't people? And what would a personal BHAG look like? The answer came in third year on exchange in France. Spending time with people from different countries was inspiring. I wanted to see more of the world and hit on my BHAG: to visit all seven continents before I turned 30. 
I was then 20 and could check off two continents right away. I was in Europe at the time, and, having grown up in Toronto, I had "visited" North America. That left five continents. I wanted to move fast.
First up was Africa, in 2010. My mom is from Tanzania and my dad from Uganda, so this was an opportunity to see their homelands. The next year, after graduation, came Vietnam and other parts of Southeast Asia. Starting a full-time job as a marketer in Toronto introduced a new set of priorities, but I did not forget my BHAG. In 2012, I ticked off a fifth continent when I took a trip to Argentina.
Setting a personal BHAG taught me three things: Achieving a seemingly impossible goal over a decade is immensely rewarding given society's general focus on instant gratification. Second, diversity of thinking is transformational — the greatest personal growth for me came from interactions with people from different places and cultures. Third, working to achieve big goals means prioritizing. For me, the priorities became travel and experiences.
In Vietnam, I hiked two days through the lush rice fields of Sapa and broke bread with a local homestay family. In Argentina, I donned crampons to traverse the Perito Moreno Glacier in the Los Glaciares National Park, drinking the glacier's fresh, ice-cold water — the best I've ever tasted! In Uganda, I endured an eight-hour drive from Mbarara over dirt roads to see mountain gorillas in the Bwindi Impenetrable Forest. The driver humorously remarked that he had a PhD — a Pot Hole Degree thanks to all the bumpy roads he had driven on! My visit to Australia and New Zealand, in 2015, was equally enthralling, because in Melbourne I watched the World Cup of Cricket final with my family and 93,000 other people.
Antarctica was a different kind of trip. Our ship was primarily a research vessel, so the experience felt more like an expedition than a vacation. Weather was a constant factor. One minute the sea was like glass, the next our ship was riding 15-foot waves and being battered by fierce winds.
Despite the cold and ice, Antarctica is home to incredible wildlife. At one point, the biggest bird I'd ever seen flew over me. It was a wandering albatross, whose wingspan can reach more than 11 feet. It seemed fitting. Having a big hairy audacious goal is really about stretching your wings. When you do, it's amazing how far you can go.
In this issue
Alumni News
Inside Smith
Profiles
Dean's Message
Features
Parting Shot