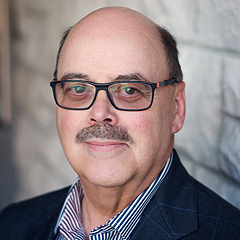 Pliniussen, John-Kurt
Adjunct Associate Professor
Dr. Pliniussen is the resident expert in Digital Marketing, Creativity, and Social Media at Smith School of Business.  Currently, he is Canada's most-quoted expert on internet marketing & digital trends in the national media. Some of his sales-related research is summarized on his site at http://www.salessalsa.com/
JP is now an innovation coach for https://ultrabrand.com  and http://www.resolutionstech.com/ and helped with www.gshiftlabs.com  when they first started. He was a Program Director with Shad International www.shad.ca and was Chairman of Bayway Venture Investment Corporation.
Prior to becoming an educator, Dr. Pliniussen worked with many growing corporations and most Federal and Provincial Ministries.  Dr. Pliniussen earned his PhD in Information Systems and Strategy from the University of Bath, England, an MA in Administration from Goddard, an MPA in Public Management from Queen's University, and his HBA in management from the Ivey Business School at Western.  While he worked in industry, he also attained his Certified Administrative Manager's and his Professional Manager's designations.  Dr. Pliniussen has received teaching and research honours, and has much experience in management education and administration. 
JP has authored and co-authored 11 management textbooks, over 30 case studies, and 15 journal articles.  Until recently, he was Director of Queen's Consulting, Canada's longest-established and premier consulting program.  Now he teaches in Queen's top-rated MBA and BComm programs.  Dr. Pliniussen is also helping lead the development of Canada's first university-based Centre for Sales Excellence at Smiths.  He is one of a handful of Canadians to ever be awarded the Edwin-Appel Prize for Entrepreneurial Leadership from Babson College, the world's leader in entrepreneurship education.  He is currently finishing a new management reader related to digital marketing and social media analytics.
Dr. Pliniussen was raised in Copenhagen, Denmark, is multi-lingual, and after moving to Canada, worked in Calgary, London, Toronto, Halifax, and St. John's.
Specialty: Digital Marketing Competitive Strategies, Marketing, Management of Innovation and Creativity, B2B Sales, New Venture Creation and Growth
Subject: Marketing, Digital Marketing, Creativity and Sales
Room: Goodes Hall Room LL179 East Wing
Extension: (613) 533-6589
Email: john.pliniussen@queensu.ca
Download CV
Download Image