Alyssa Furtado, BCom'07, is the CEO of RateHub, a website that compares mortgage rates and financial products that she co-founded with classmate James Laird. A core team of Commerce grads is helping propel this FinTech venture to new heights, including a $1M deal on Dragons' Den that took a different turn after the cameras stopped rolling.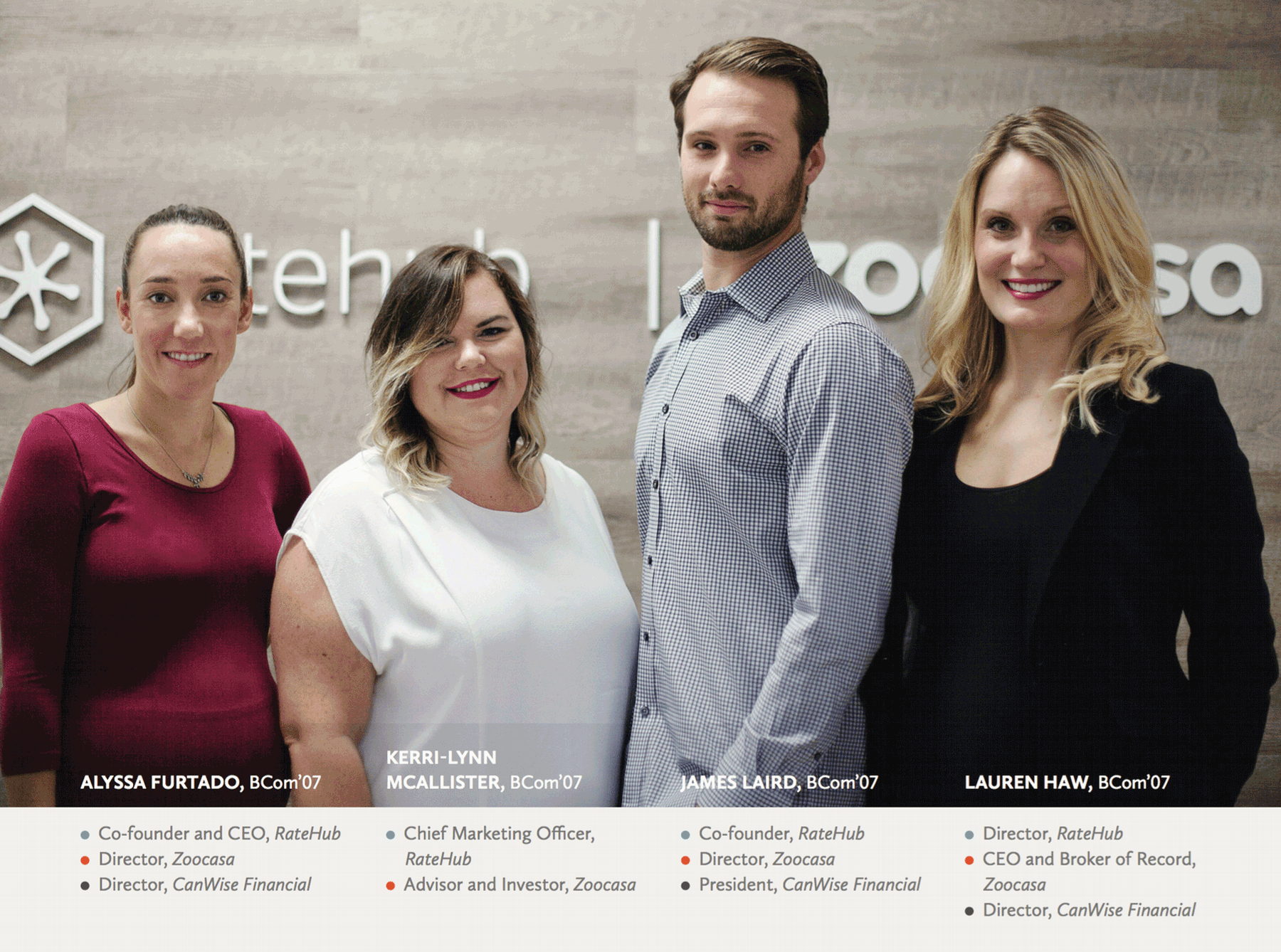 One summer day in 2007, a pizza stand appeared across from the Stauffer Library on Queen's Campus. Enthusiastic grade-schoolers were doing a booming trade. Another group was operating a car wash in the parking lot of neighbouring KCVI. These were just two of the ventures launched by 60 students in grades four to eight who attended 'Break into Business', a day-camp launched by Alyssa Richard and Monica Walker, both then recent BCom'07 grads. 
This wasn't the first entrepreneurial venture the pair of friends had launched. Their statistics exam-prep course had been very successful, and the duo had also started a scholarship foundation that raised $6,000 for Commerce students going on exchange. 
That Alyssa Richard (now Furtado) would go on to become a successful entrepreneur in her own right isn't surprising. Just nine years later she would be a co-founder and CEO of a company with 55 employees and $10 million in revenue; that wasn't something she foresaw that fun summer, her last before joining the "real world" of business. 
"Those smaller ventures gave me confidence," says Alyssa, RateHub's co-founder and CEO. "They showed me that I'm really passionate about taking ideas and making them happen — that you can go from an idea to generating revenue and the result can be a successful business." 
By 2009, after a post-graduation stint at Bain and Company as a consultant, Alyssa was ready for a change. "It was an incredible experience, but I just didn't feel that it was my calling," she explains. Her plan was to enrol in a B.Ed. program to get the pedagogical training needed to turn Break into Business into a full-time venture. 
That plan was derailed when friend and BCom'07-classmate James Laird approached Alyssa with a business idea. James, a co-owner of a mortgage-brokerage firm, saw the potential for an online mortgage-rate comparison website. Alyssa had come across such sites in her travels in the U.S. while consulting for financial-services companies. "They were huge in the U.S., some with market caps of many hundreds of millions of dollars to over a billion," Alyssa explains. After researching the market, they realized there was no major player in Canada offering a similar service. "Both James and I saw the opportunity," says Alyssa. "I could see it from the top down and James could see it from the bottom up."
With neither partner having a background in technology, they outsourced the development of the company's first website and launched ratehub.ca in early 2010. The first iteration was a website that allowed consumers to easily compare mortgage rates offered by banks and other mortgage providers. Revenue came from banner ads and marketing fees from banks, brokers and other financial institutions.
Alyssa and James decided early on to forego venture funding and invested in the company themselves, with BCom'07-classmate Lauren Haw and another investor also backing the enterprise. "James and Lauren had experience in investing their own money in profitable businesses, so we thought this was the way to go with RateHub. Without taking external capital, it takes longer to build a profitable company, but it also really focuses you on deploying capital efficiently," Alyssa explains. 
James continued to work at True North Mortgage, where he was a partner and COO, while Alyssa ran RateHub from her Toronto home. They soon realized that the website needed in-house expertise, so Alyssa recruited her brother Chris, a Waterloo computer-engineering grad and Microsoft veteran, to join the team. What began as a six-month stint to help out has become a full-time role for Chris, the company's Chief Technical Officer, who currently heads up the development team in Kingston. Another early hire was BCom'07-classmate Kerri-Lynn McAllister, who took on the role of Chief Marketing Officer. 
For the first five years, the business focused primarily on mortgage-rate comparison capabilities and mortgage lead-generation. It wasn't until 2014 that the business moved from Alyssa's home into commercial office space. "Rather than looking at revenue/profit, which can take so many years to build up, we concentrated on the daily wins that would lead to future revenue," says Alyssa. These included a partnership with Sympatico Finance and articles in The Globe and Mail and other major media outlets that helped with search-engine optimization and drove traffic to the site. Industry-leading mortgage calculators and educational tools and content offered a wealth of information for homebuyers, in keeping with the company's mission to "empower users to make smart financial decisions." 
In 2015, the company expanded into credit card, GIC, and savings-account comparisons, but what really took it to the next level of growth was its launch of mortgage-brokerage firm, CanWise Financial. James left his post at True North to become President of CanWise and built a sales team to service some of the mortgage leads RateHub was generating. Revenues jumped from $1.5 million in 2014, to $4 million in 2015 and more
than doubled in 2016. The company currently employs a staff of 55 in offices in Vancouver, Calgary, Montreal, Toronto and Kingston. 
With hot real-estate markets, especially in Toronto and Vancouver, the appetite for comprehensive information on mortgage rates has continued to grow. By aggregating thousands of rates from hundreds of financial providers, the site attracts more than three million Canadians annually. The company's profile has grown as well, with Alyssa and James regularly commenting in the media on mortgage rates and consumer-finance products. 
The site also caught the attention of the producers of the CBC hit TV-series, Dragons' Den. They invited RateHub to make its pitch at a May taping, with no guarantee that the segment would ever make it to air, as per the show's standard practice. Motivated by the prospect of national TV exposure, not to mention $1 million to fund the company's expansion into the insurance market, Alyssa accepted the invitation. After advance prepping with her team, she faced the Dragons alone on taping day, with her communications team sequestered backstage. Alyssa delivered a polished pitch, seemingly unfazed when fielding the barrage of questions that followed from the occasionally combative Dragons. 
Her ask of $1 million for 10% equity prompted a bidding war, with Joe Mimram initially offering $1.5 million for a 15% share. Both Manjit Minhas and Michele Romanow, MBA'08, BSc(Eng)'07, weighed in with competing offers until Alyssa finally agreed to a joint offer from Joe and Jim Treliving: $1 million for a 7% share. 
All this unfolded in less than five minutes, with Alyssa countering the rapid-fire offers with remarkable poise. When complimented on her smooth delivery, Alyssa confessed, "Believe me, I was nervous! I just don't show it, but – trust me – my heart was pounding!" 
By the time the segment aired on the show's season premiere on Oct. 5, RateHub's situation had changed. An exceptionally strong real-estate market over the summer had helped increase revenues. As Alyssa explained in a Financial Post article ("Hot real estate market cools RateHub's need for financing deal made on Dragon's Den", Oct. 6, 2016), revenues had grown significantly and profitably. "We are self-sustaining from a capital perspective and decided we didn't need to raise money," Alyssa explained. Impressed by Joe Mimram, who took the lead in the due-diligence phase, she is keeping the door open to revisiting future funding opportunities with his help.
The company's long-term plans are ambitious. "In the next five years, our goal is to take RateHub from $10 million to $100 million in revenue by expanding deeper into mortgages, and going after other markets, such as insurance and other financial products, including lending and investing," Alyssa says. 
Her own short-term plans are to take some time off with Elliot, the first child she and her husband, Robert Furtado, welcomed in November 2016. When interviewed for this story in early November, Alyssa's plans were to gradually return to work part-time before resuming her role full-time. "Having such a talented team makes taking the time off possible, for which I'm very grateful." 
Her support network includes Lauren Haw, also a first-time mother, whose daughter, Madeleine, was born in December. In addition to being an investor in RateHub, Lauren is a serial entrepreneur. In 2015, she purchased Zoocasa.com, a Canadian real-estate search site, from Rogers Communications, with James and Alyssa investing in the enterprise. 
This close-knit group, which initially crossed paths as first-year Commerce students in 2003, is making its mark on the Canadian FinTech sector on its own terms. In response to Manjit Minhas's question on the Den about how RateHub was financed, Alyssa replied that four partners had contributed $100,000 each. "We haven't taken any external capital," she explained. In the background, Joe Mimram could be heard saying, "Very smart. Very smart." 
If a Dragon is betting on RateHub's success, that's got to be a good sign. 
In this issue
Profiles
Alumni News
Dean's Message
Features
Inside Smith
Parting Shot