Micheal Nowlan and Marketwire
A news junkie's perfect fit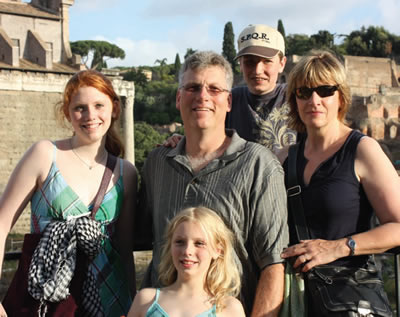 On this recent winter morning, The Globe and Mail is missing from his front door and Michael Nowlan, BCom'82, is out of sorts. The President and Chief Executive Officer of Marketwire, a full-service newswire and communications workflow solutions provider, has started his day with the Canadian daily ever since he was a Commerce student living on Albert Street in Kingston. By the time he arrives at his desk in Toronto's Commerce Court, he feels like a coffee addict deprived of his 6 a.m. jolt.
To say Michael is a news junkie might be putting it lightly.
In 1999, his personal interest in media and his career direction merged. He left a career in accounting and consulting to join CCNMatthews, a made-in-Canada newswire service with offices across the country and an international distribution partnership agreement with a US firm. He spent just one year as CFO before being named CEO in 2000. That's when the real change began.
"Our business model at CCNMatthews was simple, but it was also limited," he explains. "We were exposed to whatever our big US partner decided and nothing more. Strategically, it wasn't a comfortable position for me to be in to protect shareholder value. At the end of the day, I realized we needed to develop ourselves globally."
"The Entire News Business Has Changed, And We're Changing With It."
undefined In April 2006, despite enormous risk, Michael orchestrated the purchase of an American newswire called Market Wire, and literally overnight the tide turned for CCNMatthews and for Michael, who was appointed President and CEO of the newly expanded company.
"Before we merged with Market Wire, we had 1,500 Canadian clients and a US business about one-fifth that size." The expanded North American venture – renamed Marketwire – one word with a small 'w' to distinguish it from the US company purchased by CCNMatthews – averaged 30 percent growth, year over year.
Within just 12 months, its US market share had more than doubled to 16 percent and market share north of the border rose to nearly 53 percent. Today, close to 300Marketwire employees serve more than 8,000 clients worldwide through 20 offices on four continents, distributing news releases, managing 600,000-plus media contacts and providing a full range of services for public relations, investor relations, journalists and other communication professionals.
The most significant change, however, is in how the company defines itself. "Ten years ago we were a news wire," notes Michael. "Now we're partners in advising clients how they can use technology and distribution channels to take their messages to the world." One of Marketwire's newest offerings is a four-part "webinar" series that teaches clients how to build, enact and measure social media marketing strategies.
"Organizations no longer control their message. Instead of worrying about what a handful of journalists and analysts are writing about your company, you have to worry about what consumers are saying on blogs and websites. Everyone's an expert today." And that is why Marketwire has continued to evolve under Michael's leadership. "If you aren't investing in technology, hiring, training, product development, branding and marketing, your numbers won't be there. It's impossible."
"Now We're Partners In Advising Clients How They Can Use Technology And Distribution Channels To Take Their Messages To The World."
The chartered accountant who as a fresh-faced Commerce graduate said "You need to understand the numbers of a company to truly understand the company," has become far more appreciative over the years of the myriad of factors that determine business success.
As mid-morning approaches, Michael is in his element and about ready to put the day's rough start behind him. A running stream of news feeds his BlackBerry, and he's had 10 minutes with The Economist, his favourite magazine.
He can't help reflecting on the revolutionary changes in the media business and how people consume news. "When I first started at CCNMatthews, we were still running hard copy around on foot," he says. "The entire news business has changed, and we're changing with it."
In this issue
Inside Smith
Features
Editor's Note
Dean's Message
Profiles