From Accounting Camp to CFL Training Camp
Danny Brannagan First Canadian Quarterback To Play For The Argos Since 1969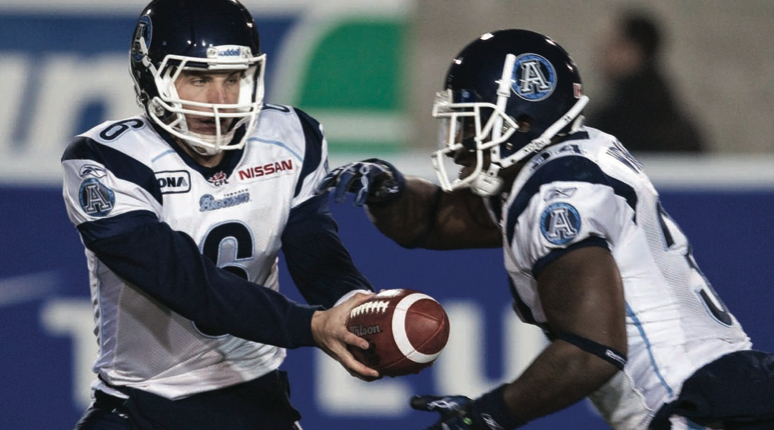 On November 28, 2009, Gaels' quarterback Danny Brannagan, BCom'09, led his team to a nail-biting win over the formidable University of Calgary Dinos to capture the national university football championship. A year later, Danny reflects on how his life has changed since that memorable, frigid day in Québec City.
Our Vanier Cup win was a wild ride and an exhilarating end to my university football career. Even as I celebrated with the team, it hit me that I would never again don the Tricolour uniform or play football at a high level. I felt lucky, though – our win was a great way to end a 15-year football career. After the game, I was asked about my future plans. My answer was simple: I would pursue my CA designation at PricewaterhouseCoopers (PwC), having signed a contract with them the previous September.
At least, that was the plan. While in the Commerce program, my classmates and I had been encouraged to explore all career alternatives, including the less traditional ones. I decided to ignore that good advice. After graduation, I attended 'accounting camp,' and signed on with PwC. A career in accounting was what my future held. Or so I thought, until I was invited to participate in the Canadian Football League's (CFL) evaluation camp for prospective draft picks. I went to Toronto in March to try out and got a call on my cell phone as I was boarding the train back to Kingston. Toronto Argonauts' head coach Jim Barker was on the line, telling me that he was about to fax me a contract to play professional football.
It's a big change from being the Vanier Cup MVP to a scout player on the Argos' squad.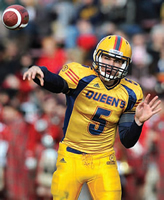 Danny throws the pass that puts him over the 10,000- yard mark in 2009.This was a career alternative that wasn't presented in any of the School's career planning workshops. I was very excited to have the opportunity to continue to compete in the sport that I've played for most of my life. I'm very fortunate that PwC has been very accommodating in allowing me to postpone my start date until January, after the CFL season has finished.
The Toronto Argonauts had undergone many changes in the previous off-season and released all the quarterbacks on their roster. I was one of five quarterbacks brought in to compete for the starting role. I didn't land the starting spot on the team, but I am on the practice roster to help develop my skills.
It's been a big change to go from being the Vanier Cup MVP to a scout team player, but I appreciate that I've been given something that very few Canadian quarterbacks have ever been given – a chance. Of the 62 players on the team, most are American, one is from Germany, and 27 are Canadian. I am the only Canadian quarterback in the CFL and the first since Tommy Denison, Arts'04, who played for the Stampeders and Blue Bombers.
There are other differences between being an Argo and playing for the Gaels – things like not having to head home to study for a class or test after practice, and hanging around teammates who are married and have kids. Despite being on the practice roster, I traveled with the team to games in Edmonton and Moncton. These were also new experiences since we never flew to games in my five-year career at Queen's.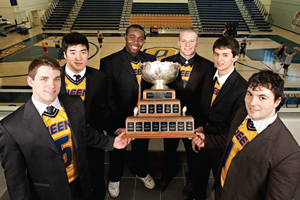 The Gaels' Commerce contingent with the Vanier Cup in 2009 (from left) Vanier Cup MVP Danny Brannagan, BCom'09; fullback Patric Hong, Comm'13; defensive lineman and All-Canadian team member Osie Ukwuoma, BCom'09; linebacker Connor Moen, Comm'13; cornerback Josh Sultana, Comm'12 and running back Jimmy Therrien, Comm'10.I think I've adjusted well to the CFL, especially compared to some of the other rookies. Most are non-Canadian, so they've had to adjust not only to differences in the game, but also to the Canadian tax rate, black squirrels, two-dollar coins, and the metric system.
I have definitely improved through being around and testing myself against these great athletes. I've learned from my Argos experience that I'm not out of place and that I can compete in the CFL. This is a testament to the calibre of coaching I received while playing for Queen's. I haven't lost sight of the fact that the player I am today is a direct result of the support I received from my Queen's coaches and teammates. I've stayed in touch with many friends and teammates from my time at Queen's, and have even made it to a few Gaels games. It was great to feel the Queen's spirit and watch the team play – I'm excited for the future of the program.
I'm looking forward to next June, when I'll attend the Argos' training camp and compete to move up on the depth chart in the quarterback role.
There are fewer than 15 current CFL players who have played for the Gaels, so I don't expect to see a CFL recruiting booth on campus any time soon. But I do think that I'm an example of the way that Queen's prepares its students for success after graduation.
Cha-gheill!
In this issue
Inside Smith
Features
Profiles
Editor's Note
In Memoriam
Dean's Message
Parting Shot