Upcoming Speaker Series Event: 'Global Platforms Creating Global Impact'
Posted on October 29, 2019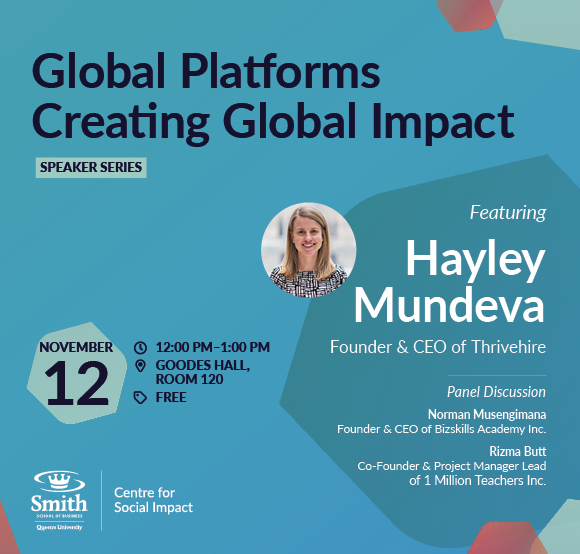 The Centre for Social Impact team is excited to host an upcoming Speaker Series event focused on 'Global Platforms Creating Global Impact'. This lunchtime session features two Smith School of Business alumni, Norman Musengimana, MMIE'18, Founder & CEO, BizSkills Academy Inc., and Rizma Butt, MMIE'18, Co-Founder & Project Manager Lead, 1 Million Teachers Inc., as well as social entrepreneur, Hayley Mundeva, Co-Founder & CEO, ThriveHire. The event will feature a 20-minute panel discussion with Norman and Rizma, and a keynote talk with Hayley.
Detail Summary
November 12th, 2019 | 12:00 pm - 1:00 pm 
Goodes Hall Room 120
RSVP to csi@queensu.ca
About the Speakers
Hayley Mundeva, Co-Founder & CEO, ThriveHire
Hayley Mundeva is the Co-Founder & CEO of ThriveHire, an online career and community platform for the Global Health industry. Before this, Hayley worked for 4 years on Global Health research projects in Tanzania, Malawi and Ethiopia. She has 2 degrees in Global Health and is a certified trainer in social entrepreneurship. Despite starting her career in research, Hayley was surprised to find little information on ways to launch and develop a Global Health career. This is what sparked her interest in founding ThriveHire. Since then, Hayley and her team have been working with organizations including the Canadian Red Cross and Save the Children, were accepted into accelerators including Next 36, and have been awarded the National Innovation Award by the United Nations Association in Canada and the British Council.
Norman Musengimana, MMIE'18, Co-Founder & CEO, BizSkills Academy Inc.
Norman is the founder of social enterprise, BizSkills Academy Inc. BizSkills Academy, a virtual, self-paced, and experiential learning solution for entrepreneurship development in tertiary educational institutions. Norman was born in Rwanda, and he holds a Master of Management, Innovation & Entrepreneurship from the Smith School of Business at Queen's University, Kingston, Canada. He also holds a Masters in Leading Innovation and Changes from York St. John University, United Kingdom.
BizSkills was conceived as part of the MMIE coursework in 2018, and was incubated through Queen's Innovation Centre Summer Initiative (QICSI) and works from the Queen's Innovation Park. Norman's entrepreneurial passion and support experience draw from 15 years of support to small and medium enterprises, as well as start-up entrepreneurs. A social innovator in the education space, Norman believes that every entrepreneurial training program should have a tangible output. A real milestone, every single participant should be able to express in the form of new learning. BizSkills Academy's goal is to empower young people and women to become leaders and change agents today and tomorrow.
Rizma Butt, MMIE'18, Co-Founder & Project Manager Lead, 1 Million Teachers Inc.
Rizma graduated with a Master's Degree in Management Innovation and Entrepreneurship from the Smith School of Business, Queen's University where she also acquired a Certificate in Social Impact from the Centre for Social Impact. She holds a BSc (Hons) with Double Major in Economics and Finance, focusing on Strategy, Economics, and Finance from the Lahore School of Economics, Pakistan. Rizma is an experienced and innovative minded person with multiple years of marketing, digital marketing, strategy and leadership experience under her belt. She has been involved in all aspects of marketing, from product development to go-to-market strategies, implementing integrated campaigns throughout the entire digital funnel. 
Her passion for human capacity development has been the driving force behind her participation in various community development activities, which led her to co-found 1 Million Teacher (1MT). Her current focus is on both 1MT as Director of Special Projects and successful Pakistani fashion brand 'Iznik' with prior experience from Shopistan (e-commerce solutions corporation) as the Chief Online Brand Manager. Rizma has also worked with a small non-governmental organization (NGO), pushing change and improving population outcome that provided free education to underprivileged kids in Pakistan.