Speaker Series Recap: Peter Sinclair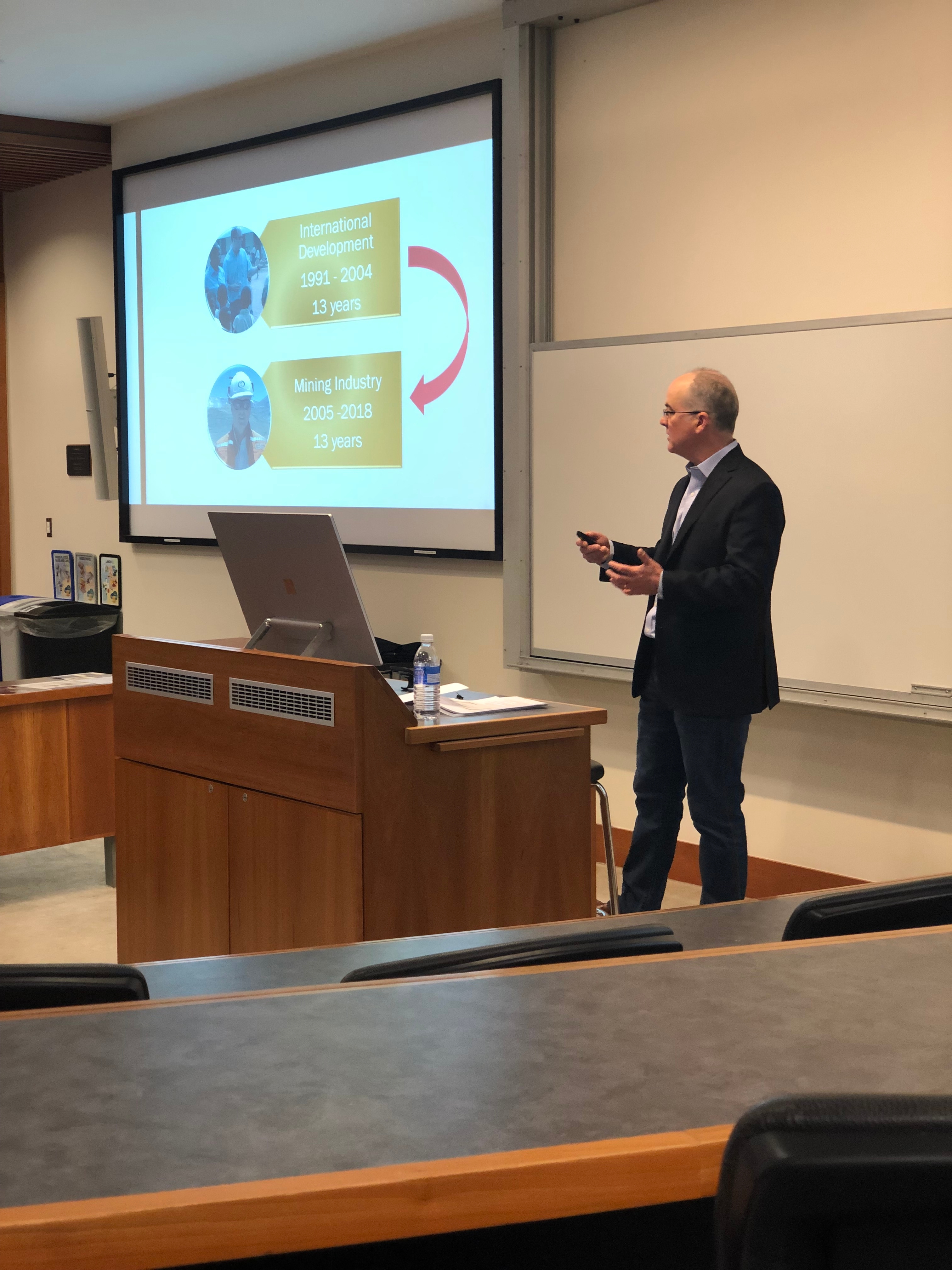 Last month the Centre for Social Impact had the pleasure of hosting Peter Sinclair, BCom'89, Canadian Sustainability Executive, Senior Advisor - World Gold Council. Mr. Sinclair spoke on his own connections with social impact, detailing a journey that started with international development opportunities forged in his undergrad, which eventually landed him in the mining sector. 
Mr. Sinclair started with a flashback to his own time here at Queen's. Displaying a photo of himself in the iconic 'I Like Commerce' sweatshirt, he recalled the house parties he would attend in the student ghetto – which an audience member dutifully pointed out is in the process of being renamed. He was as keen as a commie comes, but more importantly, he was determined to do something entirely different than his peers. We are fortunate today to have access to the Centre for Social Impact, as well as countless other resources here in Goodes Hall that can place us on less conventional career paths. Mr. Sinclair detailed feeling shortchanged for not having the same privileges, aside from one highly theoretical Corporate Social Responsibility (CSR) course.
Enter Crossroads International, an organisation that connects skilled students with communities in developing countries that need their help, with the greater goal of creating a more equitable and sustainable world. After selling bagels in a vendor-less MacCorrey Hall to pay for his flight, Mr. Sinclair was off to spend a summer teaching at a girls' school in Africa. When he arrived he discovered that the school had just let out, and that was his first lesson in social impact – expect the unexpected. Ultimately, after finding another group which welcomed an extra hand, Mr. Sinclair learned of his loves for both travel and international development.  
This experience ultimately led to over thirteen years working with NGOs around the world. A refugee camp in Swaziland, an organisation in post-genocide Rwanda, and countless other initiatives were carried out in order to make the world a better place. But towards the end of these thirteen years, a deeper desire had finally dawned on Mr. Sinclair. He had spent years obtaining a commerce degree, and loved every second of it, yet here he was deprived of the chance to use the business expertise which he had gained. While no change is small change, he couldn't see himself working with NGOs forever after realising how difficult it was to scale up his efforts.
Seemingly out of nowhere, as these things often occur, Mr. Sinclair set his sights on the mining industry. At a time when CSR was just being introduced, he saw the opportunity to apply what he had learned while working with NGOs in a business context. Two years and three meetings later, he signed on with Barrick Gold Corporation as a consultant. As he emphasised, patience and persistence pay off – maybe ask for a second coffee chat sometimes.
At Barrick Gold, Mr. Sinclair found that international development and mining were not all that different. He was still surrounded by people that wanted to do the right thing and struggled with how exactly to get it done. So, he thought back to the key flaws that he saw while working with NGOs. He recalled that these organisations addressed key needs that were essential to survival, but there was unsustainability resulting from a lack of focus on employment. 
To make a long story short, Mr. Sinclair carried out initiatives which strengthened the economic value of developing nations by providing them with employment opportunities in mining. He worked towards increasing safety and ethics standards, providing career development, and investing in social initiatives. He remarked at this point that, in addition to all the wonderful progress Barrick Gold had made, during their time they contributed over $1.1 billion in tax revenue which would be used in providing social services. 
Mr. Sinclair ended his talk by providing some key conclusions which left me with that feeling of goosebumps you get after completing a seven-page paper that is due tomorrow morning. 
You can create impact when and where you may not expect to.
While trying to condense his long and diverse journey, Mr. Sinclair remarked that we go through career phases, the first of which is the Character Building phase. This is a time which you may easily write off, but which is essential to finding your path. For him, it was the time he spent in university working part-time jobs – spending his days interning at small offices or managing Alfie's Pub (which you may now know as The Underground).
It is these times that you are discovering yourself when it is most important to appreciate the small impact that you have. It is when you are upset to be spending another summer as a camp counselor when you must memorize the image of a group of children who look up to you so much. It is these times that you are building up who you are, that you should try hard to never forget.
Social impact comes from the individual, not the job.
In a time where it seems like everyone has three jobs and a side hustle, it is easy to forget that our value is not defined by our careers. It is not only important to your mental health to continually foster your personal growth, but it is just as important in making an impact.
Both Mr. Sinclair and his wife are foster parents who have seen half a dozen children pass through their home. As stressful as it can be dealing with such sensitive situations, he remarks that family has become an amazing antidote to the fast-paced corporate lifestyle he leads.
Take the high road in each and every case.
We used to have to make a choice between people, planet, and profit. A lot of the time, it still seems like we do. A lot of the time, we are expressly told that we do. That's not why you're here. 
It is hard to find a way to achieve social impact and profitability at the same time. It has challenged the private and public sector for decades. You are not reading this because you are not up to that challenge. It is down to you to use the expertise that you are gaining in Goodes Hall to find new and incredible ways to make change, and you cando it – even without the Centre for Social Impact, and in a time where CSR was nothing more than a vague buzzword, Mr. Sinclair found a way.
A balance of confidence and humility will take you far.
This one is probably the simplest. You need confidence to succeed in any sector – but you don't have to be cocky about it.
We greatly appreciate Peter Sinclair for taking the time to share his experiences. We were inspired by his kind advice and his amazing journey. 
Get out there and make an impact!
Written by Aysha Tabassum, BCom 2022