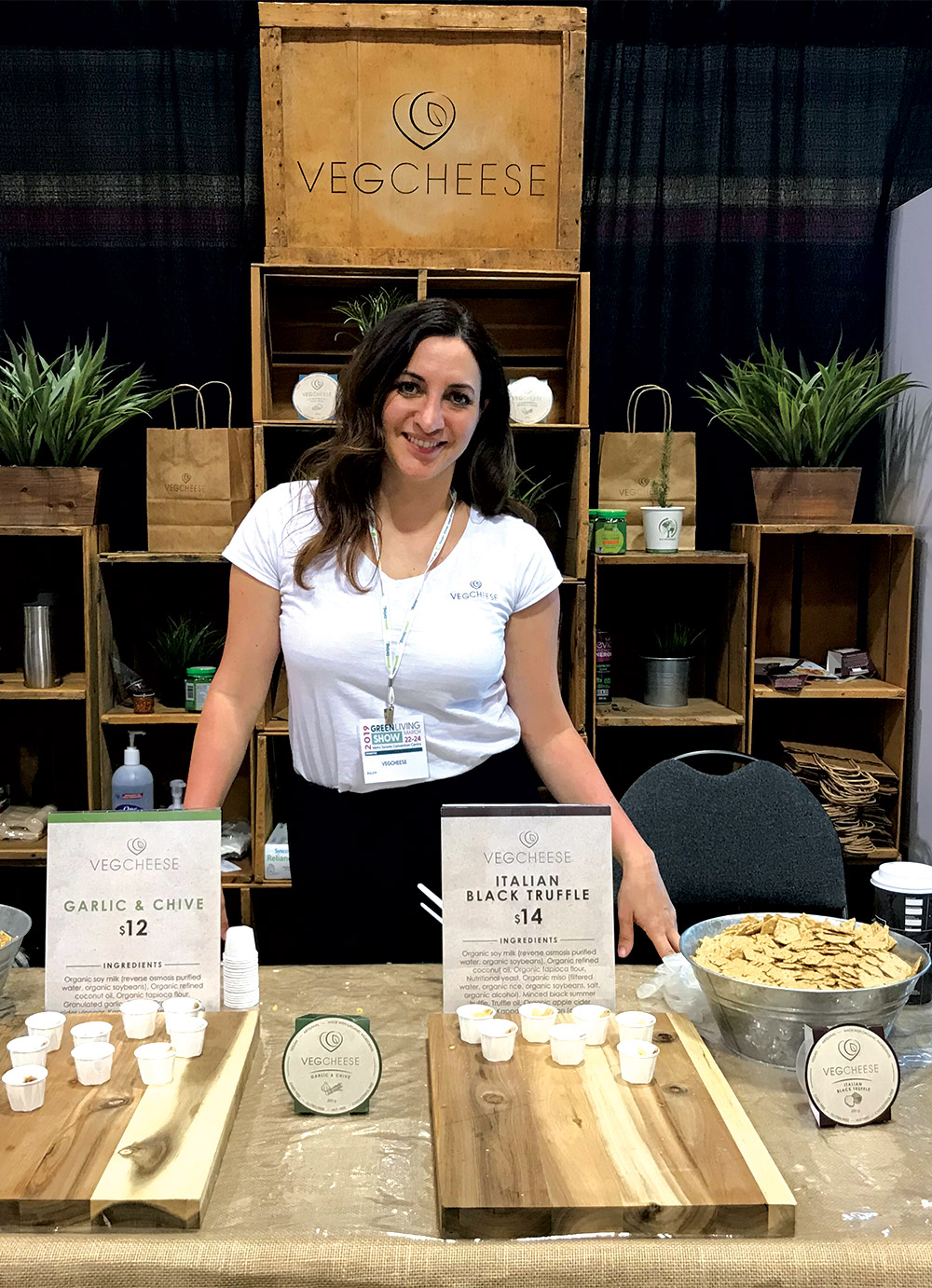 Lori Sroujian never intended to leave the corporate world to start her own company – let alone a vegan cheese company. But that's what she did.
Three years ago, Sroujian's father had a stroke. That caused her tight-knit family to reconsider what they ate. Sroujian stopped eating animal products – including dairy. No easy feat for a self-professed cheese aficionado.
Thus began her search for the perfect non-dairy cheese. Sroujian wanted to find a faux-cheese that could hold its own on a cheeseboard and melt into dishes. But her hunt came up short. "I couldn't find a product with the taste, texture and 'melty-ness' that I expect from my cheese. I decided to start experimenting in my condo kitchen…to find a recipe that would work."
At the time, Sroujian was director of digital and multichannel marketing at Janssen Pharmaceutical in Toronto. On evenings and weekends, she made batch after batch of vegan cheese. After many failed attempts, she finally landed on a recipe that made her no longer miss the real thing. 
Soon, Sroujian was sharing her creation with family and friends. They all loved it. Even the meat eaters. Then someone asked Sroujian whether she was willing to sell some of her cheese. "I didn't know how to respond," Sroujian says. "I was like…maybe I need to start a company."
A brainstorming session with her family led to the name VegCheese (her brother's idea). To build on her original mozzarella, Sroujian created new flavours, including Italian Black Truffle.
Then she took a chance. She signed up to exhibit at Mississauga VegFest, a vegan consumer show near her home in Toronto. Trouble was, Sroujian had nowhere to make the hundreds of cheeses she'd need for the show. She hadn't even finalized the packaging for VegCheese yet. Quickly, she rented a commercial kitchen, got her food handling certificate and got busy making cheese. The response at VegFest was overwhelming. "We sold almost 300 cheeses in a day. It was crazy," she recalls. Social media started talking, too. People wanted to know where they could buy VegCheese.
Lori Sroujian has long had an entrepreneurial spirit. Her thirst for the next challenge is what drew her from traditional marketing to digital, and led her to earn her MBA at Smith. So when Janssen restructured her department last October, she took it as a sign to pursue VegCheese full time. 
Her timing couldn't have been better. A recent Nielsen survey found that, in North America, consumers are trying to incorporate more plant-based foods into their diets (39 per cent of Americans and 43 per cent of Canadians). Nearly half of Canadians (46 per cent) and more than a third of Americans (38 per cent) associate plant-based protein with good health effects.
VegCheese's line of artisanal vegan cheese is dairy-free, nut-free and gluten-free. It's handcrafted in Toronto in small batches, with a base of organic soy milk and organic coconut oil.
Last December, Sroujian pitched VegCheese to a jury of experienced businesspeople at UPstart. The competition, led by Queen's Venture Network, offers funding to budding entrepreneurs – and Sroujian walked away with $15,000. She's using the money for kitchen equipment and packaging. She also hired a consultant to help extend the fridge life of VegCheese and streamline manufacturing.
VegCheese is now available in 10 specialty food stores in Ontario. Sroujian aims to get it into more stores and into restaurants. As VegCheese grows, Sroujian says she will insist on maintaining the high product standards that she started with. "If I can't feed it to my family, I will not feed it to my customers. I want to stand behind the quality of what we're creating."
Submit your New Venture
To be showcased in this section, please send us the details of your startup by submitting our form.