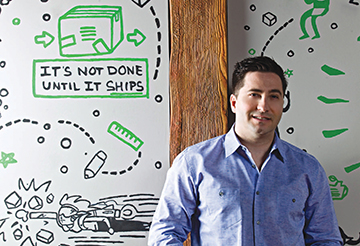 My company, TeachMe, creates educational games and apps that combine play with learning in a unique way. Our games and apps are guided by the Common Core State Standards for Mathematics and pay careful attention to regional curriculum all over the world. Our games change based on each player's mastery of that skill and their experience. Because the difficulty changes with the students' strengths, they don't get frustrated or bored. Instead, they play longer and learn more as they progress.
Scope: 11 employees, Edmonton-based
Why I started the company: For all the time they spend on it, parents and teachers still can't get every student to love math. MathGames combines the worlds of learning and play in a powerful new way. We know how to entice kids to play games. We've built some of the most popular gaming sites on the web by making fun, free games that compete (we admit it) with homework for kids' attention. We've used that expertise for a greater good. Our first product, MathGames is driven by the belief that if students applied even a fraction of their free time to math, it would amount to something significant — something that could change their lives.
The first thing children learn is how to play. With MathGames, they play to learn.
The most fun I've had so far has been building and testing the user experience to motivate students to keep answering questions. Our efforts have been so successful that we now have more than 75,000 students using MathGames.com and they've answered more than five million math questions to date. A recent highlight was when TeachMe was accepted to join a leading accelerator in the education technology sector in Silicon Valley.
Submit your New Venture
To be showcased in this section, please send us the details of your startup by submitting our form.