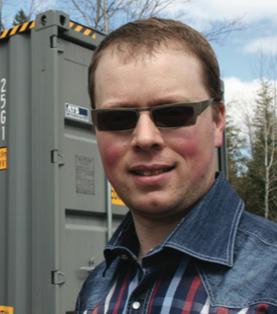 My company, Sea Container Cabin, constructs homes by repurposing shipping containers to offer a housing solution that is unique, sustainable, cost-effective, and less dependent on the electricity grid.
What business problem does your company solve? Recycled shipping containers offer many advantages as building blocks for construction, but they defy traditional methods and building codes, creating significant barriers to adoption by the market. I wanted to break down the barriers for this design and construction method in Ontario, and develop the specialty know-how to propel the industry forward.
Something we tried that didn't work was using a ceramic coating in an attempt to insulate a steel shipping container for use as housing in Canada's cold climate. There was a myth in the industry that one coat of this expensive ceramic-based paint would do the job. We went to great lengths to validate this insulation method for a cold climate like Canada's. We visited a manufacturer in Texas, confirmed technical specifications with product engineers and subsequently conducted our own bench-scale tests, all of which confirmed that ceramic-coating insulation methods only work in extremely hot temperatures and not in Canada's colder ambient conditions. Thankfully we completed this investigation before proceeding with our final designs and project construction.
The most fun I've had so far was when I introduced the concept, design and ultimate construction of our prototype to municipal building officials and local contractors. It was rewarding to see their initial curiosity turn to excitement at being part of something unique and sustainable. Building Project Octopod, a shipping-container cabin in Bobcaygeon, Ont., that functions off the grid using only solar power, has been an amazing process. The cabin's large, central, octagonal great room is the hub from which seven recycled sea containers, each with a different function, radiate outwards. Seeing the project in the pages of Cottage Life magazine, was also pretty exciting.
Submit your New Venture
To be showcased in this section, please send us the details of your startup by submitting our form.