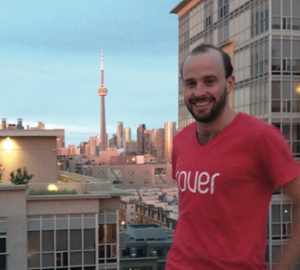 My company, Rover Parking, is to parking what Airbnb is to rental lodgings. Rover provides parking that's easy to find, inexpensive and cashless. People with a parking space to spare can share it on Rover and make a few extra dollars. People looking for a spot can use their mobile phone to locate and pay for one close by, at costs significantly lower than those charged by public and commercial lots.
What business problem does your company solve? Rover is about more than just parking. It's also about communities working together to drive change. Parking is a big part of every community, and by making it more user-friendly, affordable and tied to a good cause, everyone benefits.
If you have an unused parking space, why not let someone park there? It sits empty while people circle the block, frustrated in their search for a spot. Studies have shown that 30% of traffic congestion in urban areas is a direct result of people trying to find places to park, a task that averages more than 15 minutes. That creates unnecessary carbon emissions and wastes fuel. The Rover app changes that by allowing people to use their mobile phones to find, book and pay for parking in a fraction of the time. At Rover, we believe in giving back to the communities that support us. Rover will contribute a portion of every parking transaction to various community charities. Every time a vehicle is parked using Rover, a cause in that community is moved forward a little further.
Scope: This Toronto-based start-up with five employees is set to launch locally in late June, 2015, and plans to expand globally in quick succession.
Submit your New Venture
To be showcased in this section, please send us the details of your startup by submitting our form.