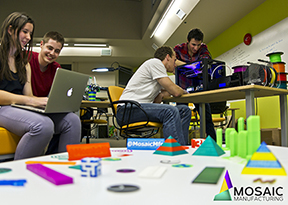 Chris Labelle and Heather Evans
Our company, Mosaic Manufacturing, has built a stand-alone accessory for single-colour 3-D printers that enables them to print multiple colours. This is revolutionary because the only reasonably priced 3-D desktop printers on the market offer only one colour. Our add-on product is compatible with 80% of desktop 3-D printers currently available to consumers.
Why we started the company: Heather and I were both enrolled in the Queen's Summer Innovation Initiative (QSII) program in the summer of 2014.This joint program of Queen's School of Business and Queen's Faculty of Engineering and Applied Science offers paid internships to students interested in entrepreneurship and innovation.We joined forces with teammates Mitchell Debora and Derek Vogt, both BSc(Mechanical Engineering)'14, and Danny Lloyd, a third-year Electrical Engineering student, to form Team Mosaic. Mitch pitched the idea of a 3-D colour-printing product, and we spent the summer building our new venture from the ground up.
The most fun we've had so far was when we won the QSII pitch competition. We beat eight other start-ups to secure a $40,000 seed investment. We had pushed ourselves hard the entire summer and made some really solid progress, but received little tangible validation. There was no boss telling us we were doing a good job, nor did we have customers who loved our product. All of our motivation was internal. Winning the pitch competition validated all of our hard work. It was an absolutely indescribable feeling, one that we hope will be eclipsed in the future as our business progresses.
Our future plans include developing a video product demo before launching a crowdsourcing campaign to raise the funds needed to go into full production. This new venture has really captured the imagination of the Mosaic team, with the three recent grads committing to the enterprise on a full-time basis, with help from the two students, who plan to stay involved.
Submit your New Venture
To be showcased in this section, please send us the details of your startup by submitting our form.