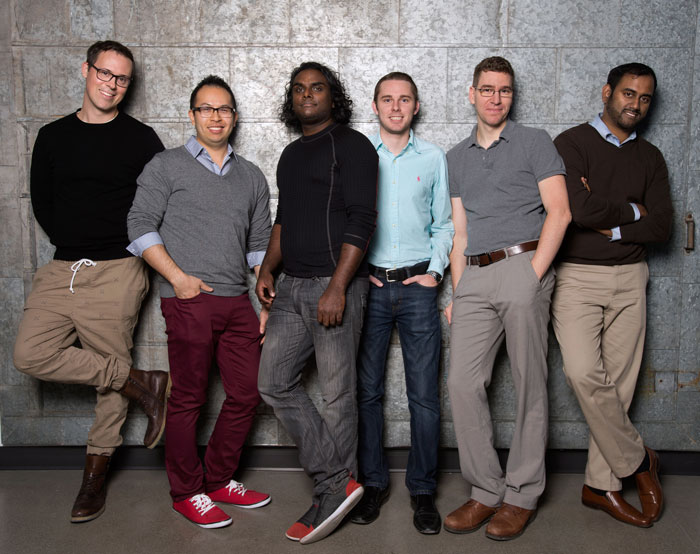 Arthur Lui & Travis Ratnam
Our company, Knowledgehook, builds software products that involve each student's community in her or his academic success. Students, as well as their teachers and parents, use feedback from our products to guide and adapt their learning experience to achieve optimal outcomes. Our featured product, GameShow, is a free, cloud-based math software package being used by school boards throughout Ontario and soon to be available in the U.S. and the U.K. 
Why we started the company: Travis explains: "I struggled in elementary school. To get good grades, I exhaustively analyzed my mistakes. By persevering, I found ways to problem-solve that made more sense to me. I went on to win scholarships and finish two university degrees, including my Queen's MBA. I'd like others to enjoy learning as much as I eventually did."
Travis and his fellow co-founders Arthur Lui, Lambo Jayapalan and James Francis have had a number of 'aha' moments since launching their venture. "It's always exciting when we learn of teachers and students using the software in ways we hadn't anticipated," says Travis. "Our company's mission is to help facilitate learning and we've probably been the ones who've ended up learning the most."
What is the business problem that your product/service solves? Many students have negative feelings about math and aren't engaged in class. Students are engaged by GameShow; they like using it because it feels more like a game than a math review exercise. The software also helps teachers and parents determine whether students are grasping a concept. 
The Queen's connection: Knowledgehook would not exist without Smith School of Business. Arthur and Travis met while they were MBA students. Arthur is Knowledgehook's lead product designer and the heart and soul of its product experience. Elspeth Murray, Associate Dean, MBA and Masters Programs, helped the venture secure $15,000 in funding from the Dare to Dream Internship program.
Submit your New Venture
To be showcased in this section, please send us the details of your startup by submitting our form.