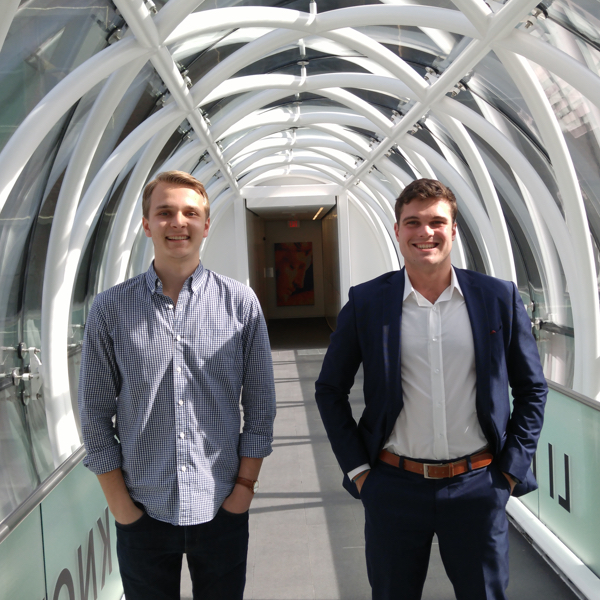 My company, Iris Technologies, is a Canadian health-care technology company. It sells a clinically validated, patent-pending accessibility device for patients with "computer intolerance" caused by concussion, migraine syndrome or digital eye strain. The device enables such patients to use a computer by significantly reducing the number of symptoms triggered while using a screen. I co-founded the company with Conor Ross, Sc'16, at Queen's University in 2015. Iris Technologies has since moved to the Biomedical Zone, a physician-led, hospital-based, health technology incubator in downtown Toronto.
Why I started the company: Conor and I set out to solve a problem we have first-hand experience with: computer use triggering concussion-related symptoms during recovery. In Canada and the U.S., there are roughly four million new concussions each year. Computer intolerance is a large issue in today's computer-driven society, as it can often force students to take time off school or employees to go on short-term disability.
What business problem does your company solve?
Severe concussion reduces an individual's cognitive ability as well as his or her sensory capacity to process light, noise and motion. These symptoms prevent the use of LCD screens during recovery, as certain features can trigger concussion symptoms. Our product, a 13.3-inch secondary computer monitor that uses e-paper technology, does not have the backlighting and pixel refresh rate found in its LCD counterparts, which allows users to stay connected and maintain productivity during their recovery.
Something we tried that didn't work: We tried to sell the device to professional athletes. We originally thought that due to the high probability of an athlete sustaining a concussion, it would be a great market for Iris. After a few conversations with sports teams, we soon realized that while there is no shortage of concussions in the professional sports world, pro athletes do not have as much need to use a computer during their recovery as a student or employee.
Submit your New Venture
To be showcased in this section, please send us the details of your startup by submitting our form.