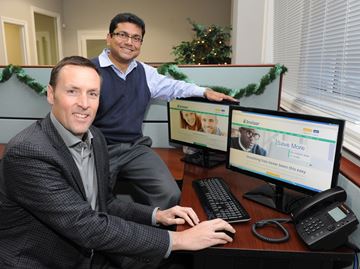 Dan Poole and Pramod Udiaver
Invisor Investment Management/Invisor Insurance Services
Our company, Invisor, simplifies investing and helps Canadians reach their financial dreams sooner. Our services are delivered online, using our proprietary technology, which keeps costs low and passes on the savings to our clients. Unlike banks and other financial institutions, our services are accessible to all, with no minimum investment amounts or fees charged to get started. Our fully online, paperless on-boarding experience makes it very easy for clients to sign up. Invisor will soon be adding goal-tracking tools and insurance solutions to complement investment portfolios.
What is the business problem that your product/service solves?
Investors in the mass-market segment (less than $1 million of investable assets) are typically served by their local bank branches or other financial institutions that sell mutual funds. This segment of investors does not typically get access to professional investment management services that are usually directed towards high net-worth clients ($1-million+ of investable assets). The mass-market segment also ends up paying a high cost for mutual funds. Conflicts of interest often arise since most financial institutions primarily sell proprietary mutual funds while ignoring better value investments offered by others.
Invisor offers Canadians smart, goal-based investment management services at a fraction of the cost that investors typically incur. There are no minimum investment amounts or minimum fees to get started and our services are easy to access online.
Advice we'd give a budding entrepreneur:
The most important thing we've learned about starting a business is that persistence, patience and a positive attitude are table stakes. Everything you want to do will most likely take longer and cost more than you expect. You need to plan accordingly and look at setbacks through the right lens — put them in perspective, solve the problem, and move on.
A Queen's or QSB connection: Dan and Pramod worked together as members of the AMBA Class of 2005 Mississauga team. They stayed in touch after graduation and were both excited to address the market opportunity; an idea that has grown to become Invisor, which launched in May 2015.
Submit your New Venture
To be showcased in this section, please send us the details of your startup by submitting our form.