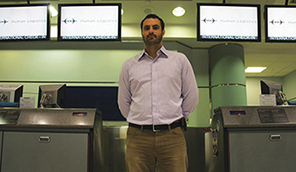 My company, Human Logistics, moves people and cargo with unparalleled precision. Specializing in aircraft charters of all kinds — from helicopters, to executive jets, to cargo and passenger airliners — Human Logistics is moving the industry forward by introducing a new standard of service and accountability.
Scope: 1 employee, Toronto-based
What is the business problem that your product/service solves? Human Logistics acts as an outsourced business development department for aircraft operators on a global scale. We deliver long-term contracts to air operators at no cost. Conversely, we supply our customers —the charterers — with a multitude of offers and the specifics surrounding each air operator and aircraft. We put the decision power in our customers' hands, enabling them to select the aircraft and operators that best suit their requirements.
The most important thing I've learned about starting a business: My professional network has been invaluable. The advice and guidance offered me, often casually over a meal, have proven to be the most important lessons learned to date.
How my QSB connection has helped the business: I'll always remember Prof. John Pliniussen's comment, "Pressure makes diamonds," Those of us intent on reaching our true potential, in either our lives or careers, must work harder than what is sometimes comfortable — applying pressure on ourselves, on others, and on convention itself.
An offer for budding entrepreneurs: It'd be happy to advise alumni on their business plans and to act as a sounding board. I encourage collaboration and will always make time to meet with fellow entrepreneurs.
Submit your New Venture
To be showcased in this section, please send us the details of your startup by submitting our form.