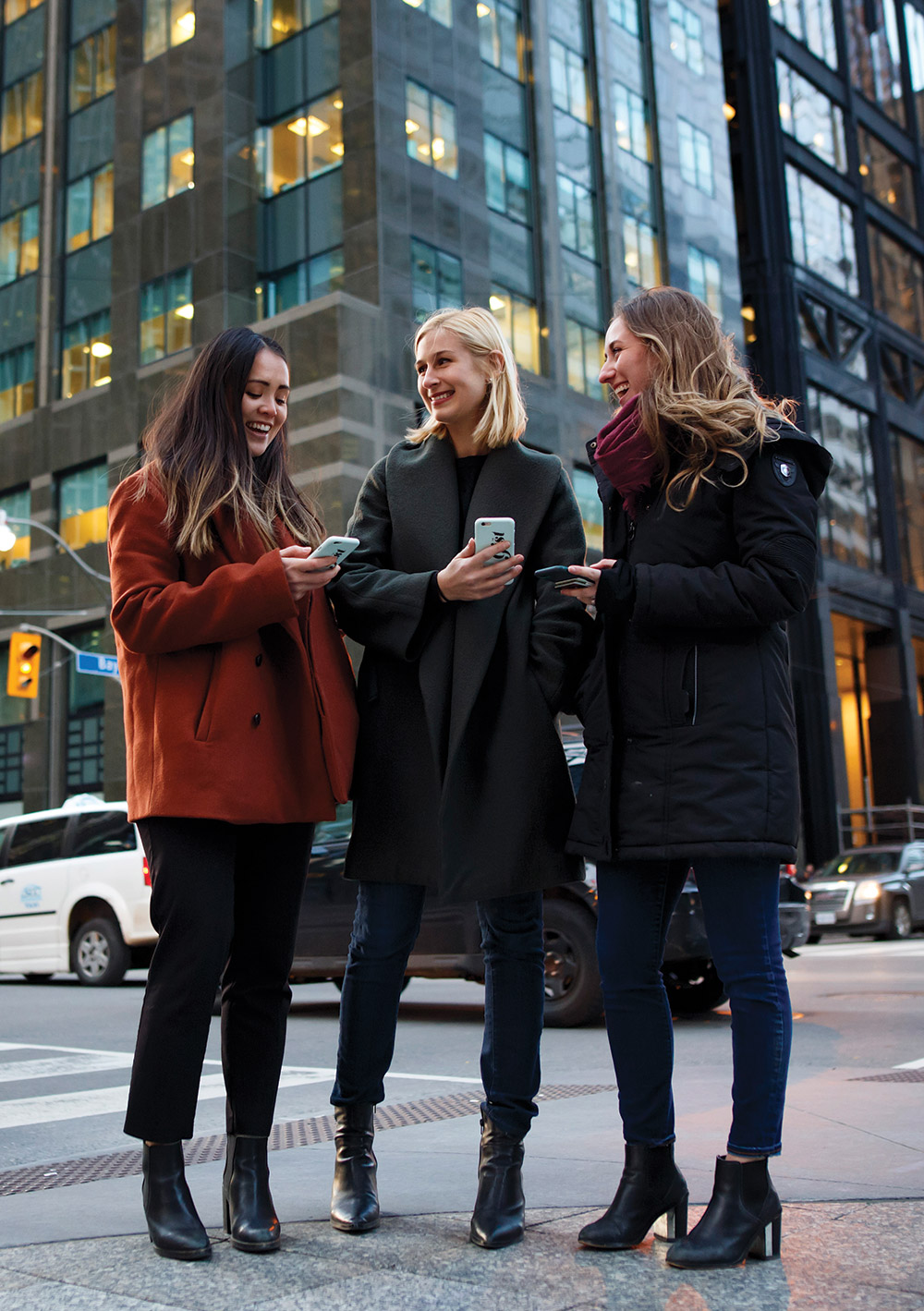 A​fter graduating from Commerce in 2014, Jacie deHoop, Ellen Hyslop and Roslyn McLarty, GDA'14, landed corporate jobs in Toronto. Working in a city with so many sports franchises, the three friends quickly noticed how obsessed people were with teams, players and last night's scores.
"When the Toronto Raptors, Leafs or the Jays are doing well, there's this kind of energy, and people really unite around it," deHoop says. But they noticed something else, too: Many women, including themselves, often felt left out of sports talk. As deHoop puts it: "Sports can really feel like a boys' club."
So they created The Gist, a sports news outlet with content created by women, for women. It was inspired by other female-targeted sites, like TheSkimm and Girlboss. Smith Magazine recently spoke with deHoop about The Gist, how it got started and what's next.
How did you start The Gist? 
We were all working full time when we observed this imbalance in our professional and personal lives when it came to sports. We wanted to create a female voice in sport that was specifically for a female audience. To see if it was something women would be interested in, we soft-launched an e-newsletter at the end of 2017 that gives you 'the gist' of what's going on in the sports world in a fun, quick read. It was sent every Monday to mostly friends and colleagues. After six months, we applied to the Digital News Innovation Challenge, an incubator. It came with $100,000 in non-dilutive funding and $50,000 in Facebook and Instagram ad coupons, other resources and support. We were one of five teams across Canada accepted. It was the catalyst for all three of us to leave our corporate jobs and take The Gist full time.
Your main product is a twice-weekly newsletter. What other content do you feature?
Our newsletter covers what's happening in the top professional sports leagues while also highlighting female athletes and women behind the scenes. Only four per cent of sports media coverage is on female athletes. We're trying to change that. We want our readers to feel empowered and confident in their sports knowledge, and, for more casual fans, to ignite a passion for sport. We're also on all social media, with daily updates on Instagram and Twitter.
What are some additional features of The Gist?
We're moving into video content and recently did interviews with some awesome athletes – from Shelina Zadorsky of the Canadian women's soccer team to Thomas Chabot of the Ottawa Senators. We also have deep-dive features on various topics: motherhood and maternity leave in sport, the 'Take a Knee' movement or the Larry Nassar scandal. For more casual fans, we have sport-specific guides, glossaries and FAQs on our site. 
In addition, we host sports experiences. What's so amazing about sport is the community aspect and the gamification behind it, including pools, brackets and fantasy drafts. These are predominantly hosted online, but we also bring our community together offline, through viewing parties. We host viewing events around once a quarter and they've helped us create a really engaged community of women around sport. 
Are all three of you big sports fans?
Ellen is definitely the really avid fan. Her depth and breadth of knowledge is impressive. While Roslyn and I grew up playing a lot of sports, becoming a really avid fan of any pro sport didn't happen, likely because sports media today is largely created by men, for the male fan. What we found is that when you're getting the updates from one of your best friends, it resonates so much more. So we emulated that effect with The Gist. Ellen is kind of the voice of The Gist and leads all of our content strategy.
What areas of the business do you and Roslyn concentrate on?
Roslyn is a CPA and CA and she manages our finances, operations, data and analytics. She ensures we're moving forward efficiently and keeps all of us on track. I lead all things growth. This includes growing our user base and growth in partnerships.
You started The Gist in Toronto but recently expanded to Ottawa, with more coverage of sports in that area. What's next for your company?
Our vision is for The Gist to be that go-to source for sports for women across North America. With that, we are expanding our content delivery channels to incorporate video and audio so that our "Gisters" can consume The Gist how they want, when they want. We are also expanding to the U.S. within the year and are evaluating both New York City and Boston as key potential markets to enter next. Our main focus is on growing The Gist community so that we can engage the millions of underserved female fans out there.
Submit your New Venture
To be showcased in this section, please send us the details of your startup by submitting our form.