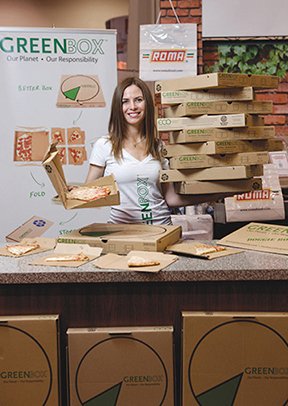 My company, Ecovention, designs, licenses and manufactures products intended to improve outmoded, outdated and wasteful food packaging. Our flagship offering, the GreenBox PizzaBox, is a multifunctional container made from 100% recycled material that is both recyclable and compostable. The top of the box breaks down into four dinner plates, while the bottom folds into a handy storage container for leftovers. Our GreenBox line also includes the SliceBox, the WrapSleeve, WingBox and the HoagieBox.
Scope: Six employees at this New York City-based company. The GreenBox line of products is sold through distributors across North and Central America and Australia to retailers, including Whole Foods, one of our largest end-customers.
My 'aha' moment: My business partners, William Walsh (designer of the GreenBox) and Ned Kensing, and I decided to produce a demo video for the GreenBox (www.tinyurl.com/ckbawe) before we'd even formally set up our company. We uploaded the video to YouTube in mid-2009 and within a few weeks, Ashton Kutcher (the then-champion of Twitter) tweeted about it. We received 55,000 hits overnight and inquiries from across the U.S. and around the world. That's when we knew we had a winner.
The most fun I've had so far was seeing our product on national U.S. network-TV shows. In February, the GreenBox PizzaBox appeared on 'Rachael Ray' (CBS) and 'The Chew' (ABC) and received enthusiastic responses from the studio audiences. I also get a thrill from walking into a restaurant, grocery store or hotel and seeing our GreenBox products in use!
Submit your New Venture
To be showcased in this section, please send us the details of your startup by submitting our form.